Editor's Note: From 1987 through 1994, diehard Steely Dan fans turned to a small fanzine called Metal Leg for information about Donald Fagen and Walter Becker. Published first by England's Brian Sweet (who went on to write the unofficial band biography Steely Dan: Reelin' In The Years) and later by New Yorkers Pete Fogel and Bill Pascador, Metal Leg set high standards by providing solid information without resorting to paparazzi-style tactics.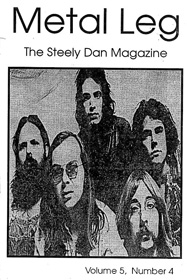 Articles
Editor's note
I've Got The News
Walter Becker Interview on CD101.9
Donald Fagen Interview on WNEW
Reviews of a Night to Remember
A conversation with Dinky Dawson
Dick Cromelin puts foot in mouth
A CD Scandal: MCA screws up
The meaning of "Haitian Divorce" (Plus a recipe)
Letters
Lyrics to "Kulee Baba"
Editor's Note
This issue covers the reunion of Donald and Walter live on stage doing Steely Dan songs for the first time in 17 years. The crowd that night gave them a reception that they seemed to have been holding in for the same 17 years.
Also, Pat Metheny played with Donald on stage at The Lone Star Roadhouse which I had a role in putting together, I'm proud to say.
In an interview I think you will all love, I talked with Dinky Dawson who did the sound for Steely Dan on their final tour. He gives you the inside track on life on the road with The Dan. It was great talking to Dinky, and as Walter Becker once summed it up "I couldn't understand a word he said, but I knew he was an intelligent, professional guy."
My nephew Sean got to his first Donald show. Sean is a high school senior and going to college on a music scholarship for piano. He was so taken in by the show, I think it will be a long time before he listens to another Billy Joel record.
After the show Sean said, "You know, Uncle Pete, I love Becker & Fagen's music. It's a challenge to play, but I love playing it." He then said, "The only thing I can't figure out is the lyrics." I asked him to give me an example and he replied, "What the hell is an expanding man?"
I couldn't help but laugh. Welcome to the world of Steely Dan.
–Pete Fogel
I Got The News
Donald's Solo Record
"I wish I could push out records quickly just to keep my career afloat, but I don't know how. The only way I know is to let time pass and the record makes itself," Donald told the Independent in late '91. Well, despite the drawn-out process, Fagen is moving along slowly, but surely on his record and we hear that the November '92 release date is still on schedule.
Fagen spent the entire month of February in Maui at Walter's studio working on the album and will return in April after a couple of appearances at Libby Titus' New York Nights showcases at the Lone Star Roadhouse in NYC at the beginning of that month.
So to bring everyone up to date on all we know about the record, we'll first start off with the players that have been in the sessions.
Four drummers have been involved: Chris Parker, Denny McDermott, Buddy Williams and recently Leroy Clouden.
On bass, Zev Katz and Lincoln Schleifer were also in the studio. And on guitar, Georg Wadenius who played on "Century's End." We don't know who of these players will make the final mix but it looks like Walter Becker will be all over the record on bass and guitar. Fagen we know will be singing and playing the Fender Rhodes piano.
Fagen has said in recent interviews that his project could be considered a science fiction-rooted "concept album." Set in the near future, it follows a protagonist on his journey in an "environmentally correct steam-powered car that has a hydroponic farm in the back."
"I guess it has a social level on which you can take it," Fagen said of the album (in a November LA Times interview with Richard Cromelin reprinted later in this issue). "It's sort of a metaphor that can be seen on any number of different levels — as a personal life story, a cultural life story. It's like, 'What do you do with what you're given, and how do you transform it into something worthwhile?' That's really what it'ss about."
The theme of the album is not really Sci-Fi, Fagen elaborated to Ken Sharp in FMQB Magazine in mid-Feb.'92. Sci-Fi is "rather a device in which to exploit other themes that I'm interested in. It has to do with life itself and the problems of being in the middle of life and looking ahead with a sense of mortality, which tends to be on your mind when you get into your forties as you'll unfortunately find out. (Ken is 28). I wanted to address that problem. To do it, I came up with an idea of someone who's on a journey, and the journey takes place several years in the future. That's what made me use a lot of Science-Fiction devices which I felt helped tell the story."
Although Fagen hasn't let on the working title for the album, three song titles from the album have been reported: "Snowbound," "Dunes," and "Tea House."
Walter Becker is still handling production duties with Roger Nichols at the controls.
Walter's Solo Record, Etc.
Although its release is even farther away than Fagen's new album, Walter Becker's debut solo album is in the early stages and is generating enthusiasm from those close to the project, including producer Donald Fagen.
Fagen told Rolling Stone, "I've heard some stuff that was just great. He's a totally original person, and the songs really express his personality. It's a kind of pop music, but very funny. It's really smart and witty, and I think it will do very well."
Ken Sharp, in his interview with Fagen brought up whether Walter was confident singing. "Well, you know I think this is more of a confidence problem because he's always had a great voice, but he's never been very confident about it; but he's a great singer as I'm sure everyone will find out.
For those of you who have the pre-Steely Dan demo album The Early Years, we believe that Walter sang the lead on "Mock Turtle Song," which is a pretty funny song.
In addition to working on his own stuff and Donald's record, Walter is producing jazz albums for Windham Hill and Triloka Records. Walter was hustling his Triloka projects on an interview on NY's CDIOI.9-FM with D.J. Ray White. Walter was accompanied by two of the artists he produced.
Pianist Andy Laverne whose recent release called Pleasure Seekers (Catalog #186) features Bob Sheppard on saxophone, clarinet and flutes, John Patitucci on acoustic and electic bass and Dave Weckl on drums.
LeeAnn Ledgerwood, also a pianist, was on-hand to promote her recent release You Wish (Catalog #187) which features Jeremy Steig on flute, Bill Evans on tenor & soprano saxophones, Eddie Gomez, Steve LaSpina on bass and Daruiy Gottlieb on drums.
Although trumpeter/vocalist/keyboardist Jeff Beal didn't make the interview, his Becker-produced effort Objects In The Mirror (Catalog #189) features songs Beal composed on his Macintosh computer. Saxophonist Bob Sheppard, Paulinho DaCosta on percussion and guitarists Steve Cardenas and Danny Heine.
Upcoming 1992 Triloka/Becker albums are flutist Jeremy Steig's Jigsaw (Catalog #190) to be released in early April, and pianist David Kikoski's Persistent Dreams to be released in early May.
In the fall, Becker will produce a second Andy Laverne release, and in the winter, Electric Wind Instrument (EWI) player, Steve Tavaglione.
In addition to all of the aforementioned projects, we discovered that Becker co-produced and mixed a 1991 jazz album by Maui's own Bob Bangerter. Called Looking At The Bright Side, this guitarist's album was discovered in a Maui record store and is not available in mainland stores. However, if you're interested in buying a copy, you can write to his record label: Don't Stop Music, P.O. Box 423, Kula, Maui, Hawaii 96790.
Going back to Water Becker's work on Rickie Lee Jone's Flying Cowboys, a song they co-wrote "The Horses" has been covered by a new Australian singer Daryl Braithwaite from his new release on Epic Records, "Higher Than Hope." Daryl has a great voice and did a beautiful job on the tune.
Speaking of Rickie Lee Jones, although Becker didn't produce her latest album, Pop Pop, her time with Becker certainly had an impact on her. To this day, she still quotes Beckerisms ("Use an accordion, go to jail") and lauds his studio skills ("he's really smart, and he has a lot of integrity").
Steely Dan Soul?
In some recent interviews both Fagen and Becker have hinted that they have been writing together for an "unspecified project" but have declined to elaborate.
Well, the story is that Donald and Walter have co-written 7-8 soul songs for guitarist/vocalist Sam Butler. This Minnesota resident was a member of the original NY Soul Shows at the Lone Star in 1989, and made appearances with the Revue at Southampton and some other Lone Star Shows. Butler was discovered by Fagen in Bob Telson's "Gospel at Colonus" which also featured Leroy Clouden on drums.
Not only are Fagen and Becker writing songs for the effort but they will also be playing on the album as well as co-producing it. The project will be released by Triloka and is supposed to be out in the Fall of '92 around the time Fagen's album is slated for release. We'll keep you up to date on this.
River Sound News
Gary Katz, producer and co-owner of River Sound Studio is currently working on a new album by Laura Nyro. Bernard "Pretty" Purdie, a veteran of many Dan sessions is playing drums on the project.. Supposedly, Donald will also be playing on the record. Peter Wolf of J. Geils fame and The Uptown Horns have also worked at the River.
Others who have made their way through River Sound are Roger Daltrey and Keith Richards. There was also a feature on River Sound Studio in the 2/1/92 issue of Billboard, where Fagen is optimistic about the site which opened last spring. "The studio manager, Todd Alan, says it's a terrible time to be a studio owner, " says Fagen. "But we only have one room to fill, so I think it won't be that much of a problem, especially when they find out that Gary Katz works here."
Fagen plans to keep River Sound focused. "It's built for music," he says. "No one's going to make any videos here or commercials."
Are You Talkin' To Me?
Donald Fagen, along with his other projects, has been working on the soundtrack to an upcoming Robert DeNiro movie that's supposedly titled Night and the City. Also working on the project is Jimmy Vivino, the frontman and guitarist for the Little Big Band.
Their job is to pick songs from a large record collection to go along with the different scenes in the movie. (Like Goodfellas used songs like "Layla.") The songs that Vivino and Fagen are picking from are classic Rock and Soul tunes and it's easy to see how they got the gig. In addition to songs by the original artist, some songs will be re-worked by the NY Rock and Soul Revue including "Tell Mama" and "Wrap It Up," which will be sung by Catherine Russell.
Some Steely Dan songs might be included in the movie since Donald and Walter have agreed to offer their songs for consideration. A scene in the movie we've heard about has a girl going to a jukebox, putting in a quarter, and "Hey, Nineteen" starts blasting.
This wouldn't be the first time Steely Dan or Donald Fagen solo songs were used in movies. The most notable songs and movies were: "F.M." from the opening and closing credits from the like-titled movie, "True Companion" from a taxi driver scene in the animated Heavy Metal, and "Rikki Don't Lose That Number" in a lip-synched, off-key performance by a happy father in Say Anything. The movie Mask with Cher also included some Dan tunes, and Air America with Mel Gibson included "Do It Again."
And finally, in director Savage Steve Holland's classic One Crazy Summer, John Cusack plays Hoops McCann, the lead character, who incidentally, can't play basketball. No Dan tunes appear on the sound track, but Demi Moore Willis does sing several songs in the movie.
NY Rock & Soul-Live at the Beacon,
possible East Coast Tour, expanded Gold, etc.
With great anticipation, the NY Rock & Soul Review-Live At The Beacon CD was finally released in late October to great reviews. Sales have been good with the album charting on Billboard's Top 200 and good word of mouth is keeping the title moving, despite no tour from the Review, and only a two-week run of the video for "Pretzel Logic" on VH-1.
The Rock and Soul CD included 13 tracks taken from the Beacon shows on March 1 & 2, 1991 in NY. The order of the tracks were rearranged a bit; "Pretzel Logic" wasn't really the encore. Also, not all songs performed at the Beacon made the CD. In fact, although Fagen did "Home At Last" and "Black Friday," the tunes didn't make the cut. Hopefully, we'll see them released someday.
Also, if you take a close look at the liner notes, you'll see something interesting about who took the marquee photo.
Since Rock & Soul was released, Donald has done more television, radio, magazine and newspaper interviews than he's probably done over the past 15 years. It's really hard to believe, but Fagen was featured on the Cable News Network on Showbiz Today in January, and on Headline News. A re-edited, 30-minute version of the ABC in Concert '91 mini-Review at the Academy Theater appeared on VH-1 later that month, and a one-hour re-edited version appeared on ABC in Concert '92 in February.
There is also talk of a limited East Coast US tour for the Rock & Soul Revue starting in mid-August in some outdoor amphitheaters with pretty much the same lineup from the Beacon. Billboard magazine reported this tour in a recent issue, but nothing has been confirmed yet. One rumor has Walter Becker joining the tour for all of the dates while other stories have him making guest appearances. We also hear that the Revue might do an appearance in Japan.
We will keep you abreast of any developments as we get them. Please keep your ears open if you hear of any dates in your area.
The CD has received great reviews and has been selling pretty well and getting radio airplay on both jazz and rock stations.
As if one release after all this time wasn't enough, another Steely Dan greatest hits collection — Gold – The Expanded Edition — was also released the following week. Gold, which features 2 tracks from Gaucho, 2 tracks from Aja, and one track each from Royal Scam, Katy Lied and Countdown. Three soundtrack songs are also included and "Here At The Western World," a Royal Scam outtake.
There are a few peculiarities to this release. First of all, "FM" has been edited. On the original soundtrack, the "FM" reprise had a great extended saxophone solo by Pete Christlieb, which was not part of the single that everyone's heard over and over. Well, Gold edits this saxophone solo onto the second half of the song, beginning with an "uh huh" from Fagen. The only problem is that Walter's great extended second-half guitar solo was sacrificed. Pat St. John, the DJ from WNEW-FM in NY, who is a fan of both solos, had an interesting solution for his show. He just played the opening song "as is" and then adds the reprise for a "super-extended" version of FM. On the Gold liner notes, Christlieb's solo was not credited.
"Century's End" is also different. It was remixed and you now hear a little less bass and drum machine, so now you can throw away your "Bright Lights, Big City" soundtrack.
The live version of "Bodhisattva" includes the introduction of "Mr. Steely Dan Whatever," by the intoxicated truck driver-turned-announcer, Jerome Aniton. This show was Steely Dan's last live appearance.
"Here At The Western World," is different, but not intentionally. The original master tape of the song was lost by MCA, Steely Dan's record label. As a result they had to use a second-generation master. You can really hear the difference in sound quality.
Speaking of MCA, in the 1/11/92 issue of Billboard magazine, an article "Master Mistake Mars Steely Dan CDs; Inferior tapes used by MCA on 7 Discs," it was revealed that for the past several years MCA has been using inferior, decaying master tapes when transferring the entire Steely Dan catalog over to compact disc. The initial run of CDs in 1985 were fme, but on subsequent runs, the record company used the wrong master tapes. This mistake was originally revealed by Dan engineer Roger Nichols in an article he wrote in EQ Magazine. Later in this issue we will go into more detail on this situation.
Libby Titus presents New York
Nights and a Steely Dan Reunion
Libby Titus, the person responsible for starting the original NY Soul shows at the Lone Star in 1989 that set up the reemergence of Donald Fagen, and also serving as executive producer of the NY Rock & Soul Revue shows, hit another home run with her "New York Nights" series at the Lone Star Roadhouse in NYC in October of '91 through January '92. Her showcases featured some of the best live music performances that Manhattan has seen in years from a diverse and eclectic group of rock, soul, jazz and blues artists.
The series, which took the same format as the original NY Soul shows, allowed various artists to join Donald Fagen and Jimmy Vivino's Little Big Band in playing some of their own songs in a casual and low-key setting. The shows for the most part were filled to the house capacity of 500 people.
NY Nights started out with performances by Donald Fagen, Phoebe Snow, Rick Danko from the Band, Cyndi Lauper and a couple of guys from the Hooters (including the one with the accordion again). The shows featured a mix of the artists' hits and also some of the songs they just liked to play. The shows went smoothly and the audience loved seeing Fagen play the Dan tunes. Phoebe, as usual, knocked everyone out, Rick (I Feel No Pain) Danko gave his fans what they expected on stage, and also supplied a tour bus so the performers could disappear quickly at the end of the night.
While there was another NY Nights scheduled for October 23, there had been a lot of talk that Walter Becker would show for the gig. Walter was in town promoting his Triloka productions as well as working on Donald's new album. Walter had played live with Donald at the defunct Upper East Side dive "Hades" over a year ago (ML, 7/ 90 Issue), but they didn't play any Dan tunes. Anticipation was building for the possible Steely Dan reunion, even if it was only for a ten-minute jam. As the week progressed, we found out that Walter was gonna be at the show, but he had absolutely no intentions of playing.
As the word about Becker's probable appearance was passed to insiders, the first show at the Lone Star sold out. As Tuesday night came, a line started forming at 4:30 p.m. for the 9:00 p.m. show. Anticipation was building early, but these die-hard fans didn't know that this reunion probably wasn't going to happen now. And we weren't going to tell them the bad news. They'd get to see Donald perform some Dan tunes anyway, so they shouldn't be that disappointed when the night was over.
Although we will be reprinting a couple reviews of the show later in this issue, we're gonna lay down the scoop on how the Steely Dan reunion that was never supposed to happen, spontaneously unfolded in front of our eyes. As the band was setting up, Walter's guitar was not there. It now seemed that Walter wasn't bluffing. He really didn't want to play. Now the question we were asking was "Would Wally even show?"
Donald opened up with "Green Earrings" and while the audience, many of them seeing Fagen live for the first time, were getting into the song, others were doing 360s with their heads, whispering among themselves, "Where's Walter? Where's Walter?" He was nowhere to be seen.
As the next couple of songs were performed, word had it that Roger Nichols had been spotted in the club. Did this mean that Walter was here, too? Probably, but we still didn't see him.
Then, as Fagen swung into "Deacon Blues," Becker was spotted in the balcony area. In fact, at the beginning of the song, a glass fell from the balcony and almost hit Ula Hedwig, a backup singer, in the head. But this didn't stop Becker from going downstairs to get a better view of what was going on..
As Walter made his way to the far right wall of the club about ten feet from the stage, the audience began to whisper, "Walter's here, Walter's here." But he didn't take the stage. After Phoebe did "I Can't Stand The Rain" and Rick did "Stage Fright," Vivino took the microphone. "Is Walter out there?" Vivino asked. "We'd love you to come up, just to play the solo, just to play the solo." The crowd erupted like a volcano. Chants of "Walter! Walter!" rung out through the club. People were jumping, screening, frothing at the mouth as they tried to persuade Walter to take the stage. Walter's reaction was to shake his head no and then he pulled his sweater over his head to hide his face.
The crowd continued to beg, plead and implore Becker to join his partner and finally Walter relented, he started making his way to the stage. The screams got even louder. People were saying "Yes! Yes!," "Oh, my God," and "I can't believe it!" They actually seemed stunned. This would be the first time that Donald and Walter would have done a Steely Dan tune live together since July 1974. And as the opening chords to "Josie" started, it would also be the first time ever for them to do this song live, since they stopped touring long before Aja was released.
Fagen had been playing "Josie" since the Woodstock shows and had extended the song to include a lot of room for solos.
Becker, using one of Jimmy Vivino's spare guitars, treated the audience to the familiar guitar sound that most had only heard on record. Becker's playing seemed to flow effortlessly and all eyes, including the band's, were on Walter.
Even though there was a Steely Dan reunion taking place, you never would have been able to tell from Fagen and Becker. It seemed like just another night for Donald who didn't even pressure Becker to take the stage. He sang the song, and during Walter's blistering guitar solos, didn't glance over. There was no dramatics involved. They both just played it cool and just let the incredible music experience speak for itself.
After the extended drum solo that Fagen added for the live performance, Walter and Jimmy traded guitar licks to the end of the song. Time seemed to stand still as this was happening because you knew the song would be ending soon, but you wanted it to continue forever.
But the song finally did end and the crowd wanted more. Walter walked over to Fagen and they both exchanged some words and laughed. As Becker exited the stage to a thunderous standing ovation, Jimmy promised the crowd that Walter would be back later.
After another reunion of Cyndi Lauper with the Hooters, Walter did return and treated the audience with his guitar solos on "Chain Lightning" and ended the show with another "Katy Lied" classic "Black Friday." And this wasn't the end of it yet, after the monstrous applause settled down, the band decided to do an encore of "one of the most complex songs we've ever rehearsed." So they ended this magic night with "Wooly Bully."
As the band made its way off the stage, you had to wonder if this would be the last time you'd ever see Donald and Walter sharing the stage and performing Steely Dan tunes. We can only hope that someday all of you will get a chance to see these two guys live.
And the NY Nights kept on rolling. Although they didn't come every single Tuesday, when they happened, they happened. The Nights always featured great artists. Some of the notable greats were: Annie Ross, the great jazz singer, Bob Dorough, noted for his vocal work with Miles Davis, country artist Carolyn Doctorow, Little Jimmy Scott, whose new record is being produced by Tommy LiPuma, Joy Askew, keyboardist who has worked with Joe Jackson, Curtis Stigers, the new pop star who got his start singing Dan tunes at Wilson's restaurant on NYC's Upper West Side, actor Gary Busey, noted for The Buddy Holly Story and numerous motorcycle mishaps, Dion DiMucci from Dion and the Belmonts, who really got the place rockin', Joe Roccisano, of the Hoops McCann Band who did a new big band arrangement of "The Goodbye Look," Sam Butler from the "Gospel at Colonus," and even Libby Titus joined in on the vocalizing.
There were also some interesting people in the audience: Julian Lennon, son of John Lennon, John Robinson, noted LA studio drummer, Steve Lillywhite, U2 producer, Matt Bahr, NY Giants kicker.
Joe Jackson, who was checking out the action for a possible "Nights" gig, had a temper tantrum when a waiter didn't recognize who he was. Jackson also seemed more interested in getting a drink than watching the show.
But one person in the audience who was totally impressed by what he saw was guitarist Pat Metheny. Metheny had taken a seat close to the Metal Leg publisher and editor. On this particular night, Jimmy Vivino was in California and Drew Zingg, from NY Rock & Soul was substituting on guitar. Metheny turned to us and said "'This is the best guitar player I've seen in years," and also commented that Donald was "great to watch live."
Metheny was also checking out the proceedings to see if he thought he would fit in. Well the next week, Metheny showed up again and was convinced by Jimmy Vivino and Donald Fagen to come up and play on "Chain Lightning." Metheny did not want to play because he didn't have his own guitar. But Fagen wrote out a quick chart of the chords for Metheny and before you knew it, Pat Metheny was playing on this great song.
Metheny seemed to have a good time and we were hoping that we would see him again for a longer set. We were really excited about the prospects of seeing him do more with Fagen, but Metheny was extremely busy working at the Power Station on his new solo record which he had promised his record label several months ago. He was also spending 14 hours a day in the studio and it would be hard for him to do anything more since it would require a break in his schedule to rehearse with Fagen and The Little Big Band.
But as things panned out, Metheny finally committed to a full night of music. On December 2, a NY Nights show occurred that would be as memorable as The Reunion. Metheny had made the rehearsals earlier in the day and this time he had his own guitars. So what songs would he play? Several months earlier Jimmy Vivino had talked to Donald about trying to do "Sign In Stranger" from The Royal Scam. Fagen said he thought they were being "a little ambitious." Well, that night they decided to be "ambitious."
Metheny came on stage earlier than expected. This was probably because the band had only rehearsed the song once earlier in the afternoon. Right before the show, they discussed how they were going to end the song, and so it seemed they wanted to get to it while everyone was still thinking about what they had to do.
So before they started the song, the horn section exited the stage leaving Pat Metheny, Jimmy Vivino, Tom Barney (filling in for Harvey Brooks) on bass, backup singers Mindy Jostyn and Catherine Russell, and the drummer. And as Donald played the opening notes to this great song on the piano, the crowd exploded again. While Vivino took the opening guitar parts, Metheny could be heard in the background just warming up.
Then Jimmy made way for Pat as he took the solo in the middle of the song. It was so unbelievably great, that it became too hard to put into words because we were so taken in by Metheny's playing, that we found ourselves in another world. Metheny was so focused and seemed to be giving it his all for this once-in-a-lifetime opportunity to play a solo on a Steely Dan song. He started turning weird colors as he dived in deeper and deeper into the song, not coming up for air.
Metheny's style and trademark electric guitar sound mixed with the Steely Dan sound was a mystical and exotic combination. For a group that had explored many sounds, tonight's was another first.
Just as great was Metheny's playing at the end of "Josie" as Vivino again traded licks with Metheny as he did with Becker at T'he Reunion.
At the end of this NY Night, people spoke of this being the best show they've seen in their entire lives. We have to agree.
Walter Becker Interview on CD101.9
On October 24,1991, the day after The Reunion show at The Lone Star Roadhouse, Ray White of New York's contemporary jazz station CD 101.9 was scheduled to have Walter Becker, Andy Laverne and LeeAnn Ledgerwood on his morning show to talk about his Triloka production work. One of NY's biggest Dan-Fans, Ray also took the opportunity to talk to Walter about the historic night before.
Ray White: We heard that there was an interesting show at the Lone Star Roadhouse last night.
Walter Becker: Well, it was a pretty rousing affair, you know we had a couple of hom players and Phoebe Snow and Donald Fagen, Cyndi Lauper was great, Rick Danko…
And we understand from someone who called up that you played guitar, did a couple of blistering solos, is that true?
Well, let's see, (looking at his fingers) you're right.
Check those blisters.
That's what happens if you don't practice, kids.
Is that the first time that you and Donald have played live in a while?
Let's see, we did a similar thing about a year and a half ago at a club on First Avenue (the defunct Hades, no Dan tunes were played) that has since been closed by the health department and renamed, but you know on an informal basis like that.
Welcome to the Steely Dan fan club. And we understand last night Donald did "Green Earrings" and "Deacon Blues" and you were brought out on stage.
I was dragged screaming and kicking up on the stage actually.
Oh, come on, you kind of expected that, right?
No, I didn't. If I had thought that was gonna happen, I would have just gone ahead and agreed to do it in the first place, but there was such an overwhelming spirit of approval that I felt compelled to get up there and do it.
Are you amazed at the continuing success of Steely Dan and the sales and the fanaticism that people display?
Yeah, it's pretty surprising. It's been over ten years since we did any of that stuff and it still seems to be paying my rent, so to speak.
You and Donald and Phil Spector and Quincy Jones and maybe The Beatles said no to live playing.
Well, you know I was at dinner with Donald, Phil Spector and The Beatles last night and we're going on tour together.
Where are you playing?
And LeeAnn and Andy will be there, too.
You've been producing a couple of piano players. We'll start off with Andy. How did you meet Andy Laverne, who we remember for some work with Chuck Loeb recently?
I actually met him down at the first Andy Laverne recording session. And he strolled insouciantly in, I was already sitting there playing computer games and…
Andy Laverne: Walter, if you actually recall, we actually met on the plane on the way from…
I was gonna say, the liner notes actually refute that story.
WB: Yeah, there you go.
Welcome, Andy. Let's play something from the Pleasure Seekers CD. This is Andy Laverne, produced by Walter Becker.
(Plays music)
That featured Bob Sheppard on horn, Dave Weckl and John Patitucci in the rhythm section. They're in town tonight.
AL: If you're listening, hi guys, how are you?
Now your reputation was for taking forever to cut a record, but you've really disproved that with both Andy and LeeAnn's projects, those were two-day projects.
WB: That's right and I might add that Roger Nichols and I have worked on eight or nine such projects this year and I must say that it's the most exciting way to record. The end product has a lot of truth and authority 'cause it all happened at once, everybody played together, it's just really exciting.
Now with Andy it was kind of a thing of necessity that you had Dave Weckl and John Patitucci with their incredibly tight schedules.
AL: Right, we had to go in and out quickly.
A little bit of pressure on you.
AL: A little bit. But actually it was kind of a relaxed session.
Are you gonna be playing live at all here in New York?
AL: Yeah, as a matter of fact, we're playing November 4th at the Blue Note. Triloka, which is the label that we're all recording for, is doing a month of Mondays at the Blue Note. I'm playing with kind of a different band there: Will Lee, Anton Fig from the David Letterman Show and David Mann, the saxophone player.
Sitting right next to you is LeeAnn Ledgerwood without her Tweetie Bird…
LeeAnn Ledgerwood: Just couldn't make it this morning. Couldn't get him out of bed.
Actually, you know the story with that is that you have a favorite stuffed animal that you bring around with you as a good luck charm.
LL: Yes, and it adds to my maturity as an artist, too.
DJs can talk about it. Are there weird things — and Walter and Andy can chime in if you want to — that people have brought in to prop up on pianos, keeping in mind this is a family show.
WB: At Triloka Records in the publicity department we try to come up with a gimmick for every artist and for. LeeAnn it was the Tweetie Bird.
LL: I brought my own gimmick. Everybody needs some kind of schtick to get over nowadays and Tweetie just happens to be the candidate for me.
It's like The Beatles, they're gonna be flinging Tweeties at you.
LL: I would hope so.
LeeAnn, where are you from? You grew up out in the Midwest somewhere?
LL: Yeah, originally from Warren, Ohio, that's really a good place to be from.
Warren is near where?
LL: Sort of in between Cleveland and Pittsburgh. Right next to nowhere, Ray, basically, okay?
WB: Is Pittsburgh in Ohio?
LL: It might as well be, once you get past the Hudson River, it just kinda evens out, doesn't it?
WB: Yeah, it flattens out for about three thousand miles.
LL: Just kidding, really it was a wonderful experience to come away from.
And you moved to New York to make it in the big time.
LL: Yes, I did.
We understand you used to hang out at Bradleys a lot and that's where you were discovered.
LL: Hanging being the operative word, right, Andy?
AL: I think so.
LL: Hanging from the rafters. You have to be some sort of bird species to make it through.
WB: LeeAnn had her own hook there at the back of Bradleys.
LL: At the back of Bradleys' neck.
Down in the Village there. So let me ask you two what was it like working with Walter Becker, with this incredible reputation that preceeds him when he enters a studio?
LL: Basically, I had never heard of Walter before that experience so it made it rather easy for me (laughter). No, we had spoken on the phone numerous times I think, before that and there was some kind of connection there somehow. I felt very confident that he knew what kind of sound that it was that I wanted to get together.
And he would be the right guy to do that?
LL: Yes, it worked out very well between him and Roger, I mean, I was totally taken out with the sound.
AL: I feel the same way. With Walter sitting right here I don't want to get too complimentary, I don't want to boost his ego too much, but it was great working with him and he really got a tremendous sound. He knows his way around the studio so well it really took a lot of pressure off me, trying to deal with getting sounds or worrying about things going correctly, so Walter really handled everything great.
So you would know their side of the story being artists?
WB: Absolutely, it's kind of nice if you only have two days in the studio and you're trying to perform some fairly sophisticated music. The best thing a producer in that circumstance can do is create a situation where the musicians can just think about playing and not have to worry too much about the machines and so on.
What first impressed you with LeeAnn's playing?
WB: Well, I think that LeeAnn's playing has a very interesting harmonic dimension to what LeeAnn is writing and playing. And the other thing I noticed about LeeAnn's stuff that she did on this record is that it defies categorization. It has a lot of elements that would naturally place it you would think in different musical styles. But it really has a lot of integrity on its own.
Here's something from LeeAnn's CD You Wish and this track is called "Robin's Row."
(Plays "Robin's Row").
So it was fun working with Walter Becker, huh?
LL: It was the greatest really; I'm spoiled forever now. I don't know whether I'll ever do another record and that would be it.
Michael Franks was over here yesterday and you did a great job on probably my favorite song of his, "Vincent's Ear." What a great tune.
WB: Yeah, that was my favorite, too. You know that's from a show that he's written about Gauguin that I hope he gets produced, 'cause its got some great music in it.
And you actually had to talk him into recording it. He was going to throw it away?
WB: Well, no. He played it for me and I thought "This is great." They had already done all but three of the tunes on the album at the point where I got involved, so I figured "Oh well, he's gonna have the three songs left that nobody else wanted to do.
And there was this gem.
WB: There was this jewel, so it worked out nicely.
Donald Fagen Interview on WNEW
Two days after Becker's interview on CD101.9, Donald Fagen made an on-air appearance on WNEW-FM on the afternoon of October 26. WNEW was celebrating their 24th anniversary on the airwaves of New York at The Hard Rock Cafe. While the host of the broadcast party was the often-imitated radio personality Scott Muni, the interview was conducted by Pat St. John, the 10 a.m.-2 p.m. DJ who manages to play at least 1 Dan song per day on his show.
Scott Muni: We're live at the Hard Rock, it's our 24th birthday party.
Pat St. John: Welcome, Donald.
Donald Fagen: Big party in the daytime.
SM: Yeah, there's a lot of folks in here and there's a couple hundred thousand out there saying "Man, I wish I could be at that party."
PSJ: Well, that's why we're broadcasting. There's also a lot of folks listening to WNEW that have another reason to party because there's an album coming out with Donald Fagen and the New York Rock and Soul Revue. It's gonna be out on Tuesday and it looks like this (holding up the CD for all to see.)
DF: (Enthusiastically) Yay!
SM: Tell 'em who's on it Donald.
DF: It's got me doing a few oldies on there — Steely Dan oldies — we've got Phoebe Snow, Boz Scaggs, who else is on there?
PSJ: Michael.
DF: Michael McDonald, what a guy. He used to be in the Steely Dan group for a while. He sings Jackie Wilson's "Lonely Teardrops." There's some great old soul music on there reinterpreted by these contemporary masters.
PSJ: Boy, is that the truth. You start off with "Madison Time," you hit all kinds of great tunes on there, it's a fantastic album.
DF: Oh, thanks a lot. It was done at the Beacon Theater live in March and we took the tracks from that concert. It has a real live sound and you can listen to it at home just like you're at a little concert hall.
PSJ: Is that coming out on video as well in the future?
DF: I don't believe so, no. Well, no one filmed it so it's impossible really.
PSJ: I wanna ask you about the show you put on the other night at the Lone Star Roadhouse 'cause you were joined by another special guest.
DF: Yeah, my partner Walter. He's in town, we're working on a solo album of mine, he's producing and so we did one of the Libby Titus shows at the Lone Star the other night. Kind of a jam, we had Cyndi Lauper, Rick Danko, Phoebe Snow…
PSJ: The Hooters…
DF: …The Hooters, it was a smokin' show and, yeah, Walter came up and played some guitar. It was fun.
PSJ: Tell us, 'cause I know there are people who read the Steely Dan magazine, Metal Leg, and everybody is so very interested because people have been waiting for the two of you to get together for so long and the fact that this is the first time you've really played in public in how many years?
DF: Oh, let's see, we actually played in a club a couple of years ago (the defunct "Hades", no Steely Dan tunes were performed), which no one would know about probably except the few people who were there, but essentially we haven't done a show for many, many years.
PSJ: So if you were there, it was a rare happening.
DF: Yeah, it was rare. I think it was actually medium rare.
PSJ: The last couple times I've talked to you, I've said it's been so long since your solo album came out that you're making us a little ticked off. But now you've got this album coining out and that's gonna soothe us a little bit and we won't be so mad at you. The thing is we're just so hungry for your music, because you've been such a master throughout the years.
DF: I'm kinda hungry, too, actually. Is there any food around here? Gimme some, what do you call 'em, those weird little potato chips that pass for french fries.
PSJ: We could get you a pig sandwich.
DF: Hey, now you're talking turkey.
PSJ: What's the deal on the solo album? I have to ask you because people are gonna be mad at me.
DF: It's being recorded partially here in New York and also at Walter's recording studio in Maui, Hawaii, and it should be out next year, the middle of the year sometime, 1992.
PSJ: In the meantiine we've got this album on Giant Records. The album is supposed to be out next Tuesday, correct?
DF: In the stores on Tuesday, that's what they tell me.
PSJ: Scott, do you have anything we could play from that album? A little "Pretzel Logic?"
(Plays "Pretzel Logic")
PSJ: That sounds great, Donald.
DF: This place is jumpin'.
PSJ: We thank you for coming by…
DF: And everyone here is so beautiful. How do you do that?
PSJ: It's better to look good than to feel good. You're at the keyboards on that one. I wanted to ask you if you ever came up with a name for that thing you play, like a keyboard which you carry around with you and kind of play with your mouth as well?
DF: Yeah, the original name was a melodica, it's a kind of harmonica with piano keys that you push instead of blowing the little holes. And melodica's kind of an awkward kind of name, so if anyone has a suggestion, just write into the station.
PSJ: Well, it's truly a treat to see you in concert. I saw you for the TV show (In Concert '91) over at The Academy, but a lot of it did not get on the air, it was edited down. So you do have some video of it, right?
DF: Yeah, we did a sort of mini Rock and Soul Revue to video that they we're gonna use for some purpose, but it didn't come out that great, if you wanna know the truth, but we're trying to edit it down so people get some idea what the show is like.
PSJ: Let's talk about some of the shows that you've got planned, because the New York Rock and Soul Revue keeps an open format as far as people stopping by.
DF: That's true, but we have nothing really planned at the moment. We'd like to add some people, though, and we're supposed to be having a meeting next week.
PSJ: Next week you are playing at the Lone Star with Phoebe?
DF: That's a rumor.
PSJ: You heard it here. It may or may not be true.
DF: In fact, I have a new roomer at my house who's driving me crazy.
PSJ: Is that right?
DF: Just this guy who showed up who wanted a room, so I gave him a room. Now he's my roomer.
PSJ: It's very interesting to see you as you perform these shows because you've kind of turned into a bandleader of sorts. You're kind of at the helm behind the piano, in control of all these people…
DF: Yeah, like Doc Severinsen.
PSJ: It's cool, maybe you could take over when Johnny Carson steps down, do you think?
DF: Well, my model is really Steve Allen. It's the way he plays the piano and talks from the piano, 'cause the piano is kind of a crutch, which I need to actually carry on a conversation with the audience.
PSJ: You've stepped out of that with the melodica…
DF: Yeah, but that's a teeny weeny little piano, though.
PSJ: Another thing that's on this album is a track from your other solo record.
DF: Right, it's from The Nightfly and the band plays it in a very similar way to the original record, except maybe a little faster and with a little bit more energy that you get from a live band.
PSJ: Since the album is not out yet, would anybody like to hear that, "Green Flower Street?" Hey, it's on the air, WNEW-FM.
(Plays "Green Flower Street")
PSJ: New York Rock and Soul Revue, it's the brand new album by Donald Fagen who's put together this album and for the past year has been doing these great shows, you just kind of show up on the spur of the moment.
DF: Yeah, we just pop up somewhere. Somehow there's always a full set of amps there, I don't know who brings them there, but we start playing.
PSJ: Do you get a copy — I won't ask you if you subscribe — but do they send you a copy of Metal Leg?
DF: I occasionally see one. Metal Leg is a Steely Dan fan magazine put out by some very strange people. I don't know if they are strange, but they do put out this magazine, let me put it that way.
PSJ: Do you think it's strange that there's this incredible fan magazine that comes out all year long about a group that has really not existed for so many years?
DF: The amazing thing is that they kept it going for seven or eight years with no news whatsoever available to put in the magazine, at least now there IS a little news, so that's the most amazing thing about it.
PSJ: Well, you know it is pretty amazing because they manage to snap pictures and find stories and actually this is probably gonna be transcribed and printed in the next issue, the fact that you're here.
DF: That's true, because I notice that everywhere I play, these people show up. What can I say? I don't know whether to be flattered or run for my life.
PSJ: I think you should be flattered because it is done with love and…
DF: I'm just kidding. I'm on very good terms with them and they're great guys and the magazine's also very funny also.
PSJ: It's just one of those things, even the title itself is kind of a play on words, but we won't really get into that…
DF: Yeah.
PSJ: All over the world — I don't know how much traveling you do…
DF: I just go around the world constantly without stopping, perpetually…
PSJ: …are you surprised when people do come up to you, recognize you and tell you how much they love your music?
DF: Yeah, well, I guess it's usually in record stores as I'm signing the credit card slip.
PSJ: And then they just put it away. Have you ever gotten away with anything without them putting it through?
DF: (laughing) No, no, they always put it through.
PSJ: Always pays his bill, Donald Fagen. It's great for you to come by the Hard Rock Cafe.
DF: It's great to be here.
PSJ: …to help us celebrate our 24th anniversary.
DF: It's great — all the young people.
PSJ: How much of your solo record is completed?
DF: I've got six tracks, I need two more really to fill it out which are already written and they will be recorded very shortly.
PSJ: What inspires you to write songs? Because through the years if you go back and listen to your material — the solo material as well as the Steely Dan stuff — you get into some pretty interesting and heavy subjects at times and find incredible ways — at least to my mind — to express yourself.
DF: I guess especially during the '80s, for instance, I wasn't that inspired to write any songs. I think I had to wait for a while to see what happened really and how things were evolving and 'course by the end of the '80s, I got some ideas so I'm putting them into this record.
PSJ: Now that we're in the '90s, you're inspired again.
DF: Yeah, it's the challenge of the '90s. We're here to meet the challenge of the '90s.
PSJ: That's great, pound your fist on the table and tackle this sucker.
DF: Now we're talkin'.
PSJ: We were talking about what to play from this album and you picked out an oldie. We were gonna play one of yours and you said no, why don't we play somebody else's. What do you wanna play here?
DF: Yeah, we have some great people in the show so we should give them the chance to be heard. We have an old Memphis soul tune called "Knock On Wood." Everybody remembers it, it's still a big bar band favorite and here's a version by Mike McDonald and Phoebe Snow.
(Plays "Knock On Wood")
PSJ: That's excellent.
DF: Thank you. There's a lot of great stuff on there so it'll be out next Tuesday in your record stores.
PSJ: We wanna thank you, Donald Fagen, always a friend and a great part of the radio station throughout all the years.
DF: Thanks.
PSJ: And it is always a pleasure. I do Work Force Blocks every day — and you know, your music is one of the repeat offenders. I've always got requests for Donald Fagen and Steely Dan music and I'm always thrilled to play your music.
DF: Okay, well it's great to see you Pat and happy anniversary.
PSJ: Thank you very much. Let's hear it for Donald Fagen, ladies and gentlemen.
Reviews of a Night to Remember
Reelin' In a Brief Steely Dan Reunion
Becker and Fagen Share a Song Onstage
By Wayne Robbins
New York Newsday
Friday, October 25, 1991
Steely Dan Fans are cultish enough to be described as Deadheads in ties instead of tie-dye. But while the Grateful Dead is renowned as a touring band, Steely Dan' allure derives from its near pathological avoidance of the stage.
Beloved for its melodically innovative, lyrically challenging, impeccably crafted recordings, Steely Dan had essentially stopped being a performing group in the early 1970s. And in 1980, Steely Dan partners Donald Fagen and Walter Becker parted ways.
Since then, their individual output has not been prolific. Becker lives in Hawaii and intermittently produces other artists. Fagen, who lives in New York, recorded his last album The Nightfly, nine years ago. He tests his notorious stage fright by performing with large ensembles of changing personnel under the rubric of the New York Rock and Soul Revue. Wednesday night at the Lone Star Roadhouse in Manhattan, he was one of the expected performers on a new series hosted by his friend Libby Titus called New York Nights.
That Becker was in New York helping Fagen record a new album fueled speculation that the two might perform together at the Roadhouse — no small event, since the two are said to have been on a stage just once since the last Steely Dan concert 17 years ago.
T'he drama built as Jimmy Vivino's Little Big Band kicked off the show, in a club in which every available inch of space was filled an hour before showtime. Fagen, playing melodica, was a sideman for a while before taking center stage to sing the Steely Dan hit "Green Earrings."
In keeping with the revue spirit, Phoebe Snow, another New York Rock and Soul regular, shook the room with a passionate, explosive version of the Memphis standard "I Can't Stand The Rain." Then it was Fagen's turn, delivering his own showstopper with Steely Dan's "Deacon Blues" chord changes that give you chills, death-wish lyrics that freeze your spine.
Rick Danko of The Band continued the mood of real music for real people, singing "Stage Fright," evoking images of a Joe Cocker with less gristle and more torment.
Finally, Vivino set up the evening's dramatic moment. "Does Walter Becker want to get on-stage with us?" he asked.
T'he Dan-oids in the house shrieked, begged, implored. When Becker finally started walking to the stage, there was pandemonium, strangers giving each other high-fives and screaming "Yes! Yes!" as Fagen, Becker and band launched into Steely Dan's "Josie."
The intense emotion of the moment overshadowed another meaningful reunion Wednesday night. Cyndi Lauper was next up on the bandstand singing her heart out on Otis Redding's "These Arms of Mine" and on "Money Changes Everything" from her triumphant debut album She's So Unusual. Lauper's career has floundered since that 1983 recording, in no small part due to her estrangement from some of her co-musicians on the project, Eric Bazilian and Rob Hyman, who became the core of the Hooters. (Hyman and Lauper wrote the now-standard "Time After Time.")
Hyman and Bazilian were on-stage, too, on Wednesday, lending both moral and musical support to Lauper's performance. Their rapprochement with Lauper, and Fagen and Becker's reunion, gave the satisfying feeling that maybe you can go home again.
Steely Dan Reels In Years With Rare Live Show
By Kevin O'Hare
Union-News
Saturday, October 26, 1991
NEW YORK — Steely Dan is back.
Briefly perhaps, but long enough so that a stunned New York crowd could witness band co-founders Donald Fagen and Walter Becker's first live run through Steely Dan material in 17 years.
The event took place Wednesday night at the Lone Star Roadhouse on West 52nd Street in New York City. It had been billed in advance under the seemingly innocuous marquee of "Libby Titus Presents New York Nights." But for fans of the seminal '70s band, it turned into a trip into the musical stratosphere.
Similar in format to some of the New York Rock and Soul Revue shows Fagen has been occasionally staging during the past year, the evening featured standout performances from several other stars. The musical lineup included Phoebe Snow, Cyndi Lauper, the Band's Rick Danko, veteran bassist Harvey Brooks and members of Philly faves the Hooters.
But the night belonged to Becker and Fagen, the quirky, reclusive duo who took a sophisticated blend of bebop jazz, offbeat lyrics and incredible pop sensibilities to the top of the charts in the '70s.
A standing room crowd of about 400 caught Wednesday's first show. Many of them were hardcore Dan devotees, who'd been tipped off to the possible reunion by a New Yorker named Pete Fogel, who runs a Steely Dan fanzine called Metal Leg.
Following a powerhouse opening by the 13-piece band, Fagen sheepishly made his way through the crowd to the back of the stage. He added some melodica (his instrument of choice these days) flourishes to the Motown gem "Can't Get Next To You," before taking stage center and launching into a sizzling version of Steely Dan's "Green Earrings."
Snow turned in vocal showcases on "I Can't Stand The Rain," and Creedence's "Long As I Can See The Light," and then came one of the night's musical treasures — a riveting take of "Deacon Blues," off of Steely Dan's Aja. Fagen sang the song superbly, and the horn section built to an emotional crescendo.
It was shortly after this that Becker was seen, standing to the side of the audience and setting off a flurry of whispers among those in attendance.
At least part of the credit for the reunion goes to Fagen's current guitarist Jimmy Vivino, who played no small part in getting a seemingly hesitant Becker to take the stage.
After Danko's crisp, horn-thumping renditions of The Band's "Stage Fright," and "It Makes No Difference," Vivino grabbed the microphone.
"If Walter's out there, I'd love to invite him up," said Vivino, "just to play the solo, just to play the solo."
The crowd exploded.
After hemming and hawing a bit, the reluctant Becker took the stage to a standing ovation. He briefly embraced Fagen, strapped on his guitar and the band tore into the Aja gem "Josie."
Though Fagen and Becker have made a couple of rare joint appearances backing other musicians (including Stevie Wonder one early morning at the China Club a few years ago), this was the first time they'd been in public performing Steely Dan material since the summer of 1974.
Becker exited the stage after the song, but returned later in the set for Steely Dan's "Chain Lightning,"and a fast and furious "Black Friday." He briefly cracked up after the air-tight ending, one of the few times he or Fagen broke a smile.
The show closed with a chaotic full company take of the frat house anthem "Wooly Bully," with Vivino, Snow and Lauper trading vocals. There was something supremely ironic seeing Becker and Fagen, two of the pop world's most elusive craftsmen, closing a night like this with "Wooly Bully." Sam the Sham would have loved it.
While the singers went wild up front, the two Steelys played it cool in the background. The stoic stage presence came as little surprise since the pair always were musicians much more than glamour boys. In fact, they look more like conservatively-attired chemistry professors than pop stars these days.
But don't count on the reunion to be a weekly deal. Becker is reportedly headed back to his home in Hawaii, and is likely to maintain his low-key lifestyle. He occasionally emerges to do some producing and is expected to play a key role in Fagen's long-anticipated second solo album, supposedly slated for 1992.
They may be forever uncomfortable with the limelight and the road, but it was obvious Wednesday that there's still a stage yearning burning deep down each of them.
If anything, the show perhaps revived hope that these guys could someday make their way back for a full-blown Steely Dan tour. Nostalgia? No way. One listen to the Lone Star set showed Becker and Fagen are still light years ahead of their time.
A Conversation with Dinky Dawson
Stuart (Dinky) Dawson is no stranger to live sound. During his 20+ year career he has toured as a sound engineer for many rock & roll bands such as Fleetwood Mac, Mahavishnu Orchestra, Lou Reed and Steely Dan. In this exclusive Metal Leg interview conducted with Dinky in July '91, Mr. Dawson gives us the inside scoop on life on the road with what he considers "The Best Live Band Ever," Steely Dan. Dinky pioneered several techniques such as an overhead vocal PA system separate from the stereo PAs on each side of the stage. With help from engineer Marshall Goldberg of Boston, he also devised the so-called "snake cable," which joined stage equipment to a console in the middle of the audience. Before that, engineers had only mixed sound on the side of the stage, often in a glass booth. Currently running "Dawson Sound" in the Boston area, Dinky was so highly regarded by Becker/Fagen/Katz that he acted as sound consultant on several Dan albwns after the group stopped touring.
ML: How did you get your nickname?
DD: In England there's a toy called the Dinky toy. I used to race miniature Dinky toys. I put what they call Jetex engines in 'em and raced 'em down a quarter mile stretch of concrete in a steel mill. Then I was the first person ever in our town to get a Mini Cooper S.
ML: What town is that Dinky?
DD: There's a little village called Greasborough.
ML: You know, the gentleman who started this fanzine is from Bridgwater, Somerset. And he asked me to ask you how you got your nickname. He said he thought you were English. Do you mind me asking how old you are?
DD: I'm forty-four this year.
ML: How did you actually get the job doing Steely Dan's PA?
DD: I came over here with Fleetwood Mac in '69/'70. I moved to the U.S. in 1970 to work with the Byrds and then designed and built the acoustic suspension P.A. in 1972. That's when I started Dawson Sound. My first tour was with the Kinks in the fall of '72. How it happened was it was a gig in Texas and Steely Dan were opening for me with the Kinks. They opened two shows for me, but what big groups used to do — and they still do was they don't let the openers get a soundcheck or any of that shit. I particularly don't like that, so I don't care what the status of the group is or how bad they are, I always try to give 'em the time of day. So I gave them a soundcheck and got em all happening and mixed 'em in stereo and Walter and Denny Dias totally flipped.
ML: Walter lost the master tapes, right?
DD: Yeah. But you have to understand that there were some really good recordings and incredible live shows. I would say 85-90% of this band was the most ultimate live music you ever heard. It was just phenomenal. They played their ass off every time. We had audiences jump up after the first number just crying and that kind of thing.
ML: I spoke to Gary Katz a couple years ago and he had called me up asking if I had any live tapes because they were thinking of doing a compilation or boxed set, but Walter had lost the soundboard tapes and masters. Did you know anything about this?
DD: Well, I gave Walter every original tape. He was real paranoid about 'em. I did keep a copy of one show because it was too beyond belief.
ML: Out of all the shows, could you tell us which ones were the best?
DD: Seattle was fantastic. The Eagles were in the audience and we didn't even know. Irving Azoff was there also and he was goin' nuts. I've a lot of Steely Dan stories that we did — one of 'em was actually putting Irving Azoff against a truck wall somewhere in the Midwest because he was determined to get Steely Dan on the stage and I refused to because it was too dangerous. This was outside, it was blowing a Midwest gale, it was raining and two hundred people sat on the sound wings. He had The Eagles come on and I told Bernie Leadon "Listen, I'm not gonna put Steely Dan on there." He put the Eagles on that day. It was too much. Too dangerous. Bernie Leadon left the group at that point because he got electrocuted twice. Walter turned around and said, "It's up to you, you know what you're talking about." I said, "I'm not gonna put you on there and get you killed." And so we blew the gig off and a lot of people were upset. But the next time I saw Irving he wanted me to get them together and be their manager. You see, I'm doing a book now.
ML: Will Steely Dan be a main feature in this book?
DD: Yeah, because they're the best live band that I've ever worked with. They were electric for Seattle, they were psyched up for the show, the audience was completely Steely Dan crazy. This was the first time they realized there was a market out there for them. Then there was a show in London that they quit after the show because they realized that they were such a phenomenon that they were being ripped off by their manager at the time.
ML: A guy I talked to told me that Fagen didn't quit because of his sore throat, but the real reason was because Donald and Walter thought England was a Mickey Mouse operation and just wanted to get the hell out of there. Any truth to that?
DD: No. The truth was scary to them because after they got through the first number in London at The Rainbow, they sounded so good that they freaked out and the audience stood up after the first number. They got scared. Donald especially got scared. They didn't know what was coming around and then we took off to the other dates and Donald was getting fed all this information about the management in America. It was just the same old story: the management starts making money and the guys don't. I think it was a good time to do it for them. To get back to Los Angeles and get their stuff together and get out of the problems that they had.
ML: What exactly do you think they were scared of? How popular they were getting?
DD: Yeah.
ML: Could you remember any instances that illustrate Donald and Walter's dislike of the road?
DD: I don't think they really ever hated touring except for the constant travelling and the pressure they were under for more media — more of this — more of that. Probe (Records) was like a Mickey Mouse record company. Everybody got the royal treatment. We had a great place to stay in London, this hotel was like a home from home. There also was a lot of personal stuff coming in. I mean, Walter's mother flew into London, a lot of weird stuff going on, psycho shit, you know. It was a decision that Donald and Walter made with Bernie Gelb and Jim Jacobs who were my people, at the time.
ML: Is it true that Donald and Walter would be in one hotel while the others would be in another?
DD: No, not really. Well, they were across the road, but it was still the same hotel, I mean there were all sorts of weird personal problems cropping up — not with Donald, but with Walter — with Walter's mother sending people over. She wanted to get out of there and go into another hotel.
ML: Why was his mother sending people over?
DD: To treat Walter right, let's put it that way. To look after him and all that stuff and to keep tabs on him. You have to understand I quit doing a lot of stuff after Steely Dan because I couldn't get higher musically — soundwise and musically. The lights weren't nothing to speak about because they were a musical group. They didn't perform running around or anything other than playing incredible live.
ML: So the true reason for them quitting England was the problems with the management company?
DD: Problems with management, problems with family stuff. The hotel was an old-style hotel like an old rooming house and it was too close, too family-oriented and we hadn't even got started when all this family stuff came in. So Jim and Bernie hid both Walter and Donald across the road, same hotel but it's just in a different room and it was actually a better place because they had beautiful suites and stuff. It wasn't expensive or anything. It was called Blakes. So why did they quit England? Donald had a sore throat, they were scared of being too popular too quick and somebody in America was taking all that away from them.
ML: Tell me about the guy used to play along with them with the violin in concert.
DD: That was Jim Jacobs. It was a complete trip, everybody was wasted, there wasn't one person on that tour who can tell me they weren't fucked up. I don't mean blatantly staggering on the floor like we used to do in The Beatles' days. The thing is all this time people were giving them all kinds of stuff, but Jim Jacobs and Bernie looked after their butts as much as they could. It's like a lot of kids with a lot of money all of a sudden. And their popularity was coming around like crazy but Walter's such a good businessman, he knew if they didn't get back to LA, everything would be signed over to someone else and they would have nothing. There was three things going off at once: there was the personal thing, there was the LA problem, and there was that other thing. They were high when they played the stage, but it didn't make any difference, they played incredibly.
ML: You were in The Royal Scam sessions, weren't you?
DD: Oh yeah, all the sessions after the first two albums. Most of those people I brought to Donald and Walter. They had a set of people like Chuck Rainey, Ricky Derringer, Dean Parks, really good fucking musicians, but I came in with these radicals because I had just had 'em on a Jeff Beck tour, like Bernard Purdie, Steve Gadd and Gary would call 'em up and get 'em out there.
ML: How did you get the job with Steely Dan?
DD: This is what happened: I met them with The Kinks and I thought the band was great. But I got pneumonia and had to come off the road. So I went out with a group called Mahavishnu Orchestra and the Dan literally hunted me down afterwards to use my services and telling their management and record company that they wanted to use my production company. This was about 1 1/2-2 years after The Kinks tour. They negotiated a fee which included a retainer for me before the English tour and even though the Dan didn't finish that tour, they honored the verbal agreement.
ML: They were critical of their first two tours in the USA saying that they were literally thrown together and unsatisfactory.
DD: They were unsatisfactory because the management was just shoving 'em out there and putting them into venues they did not want to play. And they'd already done years of work with Jay and the Americans. They were mainly a studio set-up band, and they got all their friends to come out, Denny Dias, etc.
ML: What's Denny doing now?
DD: Denny is doin' really well. He writes programs for a computer firm, believe it or not. I can't remember the name of the damn thing off the top of my head but…
ML: So what's he doin' musically?
DD: Yeah, he's doin' music, he's doing scores for TV films, he's had some groups with Porcaro on drums. Denny's at home making money off one project working for this computer firm. Denny's playing better than ever.
ML: So do you think he'd do some session work or road work?
DD: I don't know. I think Denny in his heart of hearts would like to do some road stuff and if Steely Dan ever got back together, he'd love to play I'm sure. And the way Walter's working now with Donald, anything can happen.
ML: Tell us about this guy Jerome Aniton who used to give them a rousing introduction at their later shows.
DD: He was an alcoholic truck driver.
ML: And he used to bang the truck into the walls, right?
DD: Oh, more than once. The first gig that we got him in Carolina he sheared the roof off the truck and knocked the door down.
ML: They kept him on for the introductions.
DD: Well, he was so funny. The guy was always trashed but he was so funny. We got different drivers and I just left it up to Bemie and Jim to get that all arranged because they were really trying to take care of everybody's problems. It's tough going out there with the amount of things that we were all doing physically and yet at the same time coming together at night to play these incredible shows. And I'm talking the last tour — eighty-odd shows that we did.
ML: Was it a difficult task to get a sound that was acceptable to them? Did they give you a hard time?
DD: Oh, yeah. I'm totally radical with sound anyway. I do music reproduction, I don't give 'em sound systems. I have a nightclub up here (Boston) with half of the Steely Dan sound system in it. I renovated it and put the speakers in there; it's all cone speakers except for a vocal PA. I was the first guy ever to mix in the audience.
ML: Did you have a good rapport the Skunk? He said they used to do some interesting cover versions and sound checks. Can you remember any examples?
DD: T'hey used to do Beatles songs. But the Skunk was fine. Skunk was always trashed just like everybody. You have to understand the music is so good and it always will be and even Donald's Nightfly album — all this stuff that he's done. I'm hoping to go and see Walter at least at the Audio Engineering Society show 'cause I know he'll be there. I'm gonna show my face for the first time in fifteen years.
ML: What about if Donald said to you "Dinky, I wanna go out on the road but I got these unknown really good New York guys and I wanna do it with them." Do you think it would still work?
DD: Yes. But they'd have to take Walter with them. Steely Dan revisited. Walter would have to be there because Walter would make it even better. Because those two are like one person to work with. Walter's jazz stuff is phenomenal, lately his playing's absolutely outrageous, his rig is fantastic. He's ready now.
ML: And what would you wanna do if it ever happens?
DD: I'd just wanna do the same thing that I've always done which is mix for them, put the right people with the group in the right place and have him say I want this and I want that and that.
Dick Cromelin puts foot in mouth
After the following story was published in the November 3, 1991 issue of the Los Angeles Times, Richard Cromelin, a veteran of a number of Steely Dan interviews, made Donald and Walter's shit list.
Return of the Nightfly
Steely Dan co-creator Donald Fagen resurfaces after nearly a decade of silence, with new works and a new outlook on life.
By Richard Cromelin
Donald Fagen is known nearly as much for his reclusive nature as he is for his role in Steely Dan, the cerebral rock duo that combined commercial clout with artistic distinction before dissolving in depression and drug problems at the end of the '70s.
It took Fagen two years after the breakup of Steely Dan to release his own album, the widely admired 'The Nightfly. And when its success had him poised for a thriving career, he virtually dropped out of sight.
Now he's resurfacing after nearly a decade, and the surprise isn't that he's talking to the press — there's a new album out to promote, and another one in the works — but the ease and openness of his conversation.
Though he always seemed the more human half of Steely Dan — his sarcasm was downright benign next to Walter Becker, a baby-faced sadist who delighted in turning interviewers into whimpering wrecks — Fagen was a wary, guarded figure.
Fagen can still strike a tense, forbidding pose, but now the defenses are pretty much down.
"I went through a lot of personal metamorphoses during the '80s," he explained during a recent interview. "I had come to the end of whatever kind of energy was behind the writing I had been doing in the '70s and The Nightfly sort of summed it up for me in a way."
"And although I would work every day, I essentially was blocked because I didn't like what I was doing. I'd write a song and then a week later I just wouldn't connect with it at all. It seemed either I was repeating myself or it just bored me. It wasn't relevant to what I was going through at the time."
While struggling to make his own music, Fagen took some side jobs, writing a song for the animated movie "Heavy Metal" and the score for "Bright Lights, Big City." He also produced the music for the Off Broadway musical "Gospel at Colonus," wrote a column on film music for Premiere magazine, practiced and studied composition.
"At the end of the '80s I felt like I was ready to start writing again," he said. "A lot of it had to do with a relationship I was in, and a lot of it really had to do with therapy."
"I went into therapy shortly after I finished The Nightfly… and when I came out my mind was as clean and pure as the driven snow."
Fagen laughed heartily at his retreat into cliche, but the ease of his manner and his willingness to reveal himself does suggest that he's shed much of the bitterness and misanthropy that fueled Steely Dan's scenarios of desperation.
"I had a lot of defenses that had been built into my personality, which became more of a disadvantage to me than serving any purpose, and I had to find that out," he said.
"I know that I have a critical nature, in the sense that when I look at something I often look for the flaws. I love perfect art, and I had to learn that you shouldn't look for perfection in life. I had trouble distinguishing art from life. So I don't now, and I feel much better…"
"I was escaping from myself. Even if I wasn't taking a lot of drugs or drinking, I was still just as blind to a lot of things as someone who does drink or take drugs… The basic pattern that you go through life remains. T'he idea that you have to change and go through a lot of pain to come out the other side."
Fagen is resurfacing with not one but two albums, though in typically convoluted fashion: The first one out, The New York Rock and Soul Revue, isn't strictly a Donald Fagen album, and the one that might not be out until next fall. Meantime, some of Fagen's slim '80s output is being included in MCA Record's new Steely Dan compilation CD.
In the live New York Rock and Soul Revue, which was released last week, Fagen takes a back seat to former Doobie Brothers front man and Steely Dan touring singer Michael McDonald, Phoebe Snow, Boz Scaggs and others on a set of vintage soul tunes with a couple of Steely Dan, Doobies and Rascals numbers thrown in.
The project grew out of dates Fagen began playing in New York clubs and restaurants — informal sessions that eventually expanded to the "Revue" performance at the Beacon Theatre earlier this year. The sharply played salute to soul is on Giant Records, the label run by Steely Dan's last manager, Irving Azoff.
"In a way it's a tribute to the producers and writers and singers who first invented this music," Fagen said. "I hope there's some spirit there that the singers are really connected to the songs. To me, (the key element is) just a love of the music, and a desire to get together and play without any sequencers or anything that encumbers live playing."
"I think most of the people on the show are used to making records in a very tedious way — or at least I think of it that way. And (this was) a chance to play live without the pressure of doing an entire show, doing material that they don't usually do, just getting together and playing music that everyone likes and has some feeling for."
Fagen, 43, came into this kind of music later than his colleagues. He was a jazz buff as a boy in New Jersey (his memories of late-night radio figured prominently in the theme of The Nightfly), and turned to soul and rock only after jazz went over the experimental edge in the mid-'60s.
At the time he was attending Bard College, a liberal institution in upstate New York where he met the like-minded Becker. They led some bands (one, the Leather Canary, featured comedy-star-to-be Chevy Chase on drums) and began writing peculiar songs. Eventually they were brought to L.A. by their friend Gary Katz, a producer who had landed a job at ABC Records.
Hired as staff writers by the label, they formed a band to play their songs and released their debut album, Can't Buy A Thrill, in 1972. "Do It Again" and "Reelin' In The Years" both became hits, but the team's exalted musical ambitions quickly outgrew the conventions of radio pop.
"Rikki, Don't Lose That Number," in 1974 was their last big hit. They stopped touring after that and became studio-bound avatars of irony, dismantling the band and directing a rotating roster of ace musicians in the execution of their meticulous music.
In their sometimes vivid, sometimes oblique scenarios, characters struggled to connect — with each other, with changing times, with dashed ideals. The antecedents were more William Burroughs and Thomas Pynchon than Chuck Berry, and although the team could be maddeningly obscure, their best songs have a depth that allows them to to endure like literature rather than fade like disposable pop.
As it defined an influential brand of pop music informed by jazz sophistication and rock dynamics, Steely Dan became, for many followers, an indispensable part of their passage through the '70s.
"I think we definitely touched something in the culture that certain people identify with," noted Fagen. "I'm not sure what that is, but I can tell you there's definitely a deep attachment of a lot of people to the music."
It all fell apart during the making of the seventh Steely Dan album.
"We were both locked into the idea that you have to surpass what you just did or else it's no good," Fagen recalled. "Not only surpass it, but do something completely different. I think on "Gaucho" we finally went overboard on that… We were trying to realize a technical perfection that started to deaden the material."
"At the same time we were very depressed, and I think you can hear it in some of the tunes… I very much wanted to do something of my own that reflected what I was experiencing separately from Walter. We felt we should take a break from each other. We were both not in the greatest shape at the time."
That's a reference to Becker's drug habit.
"He was kind of leaping toward destruction," Fagen said, "When he was having a really hotcha swell time, you know, he'd be late for sessions and was not that easy to deal with. Music was not his first love at that point, I think. But we never had that many arguments."
"I didn't know how to handle him, and I was in the middle of doing this record that had been going badly, very slow, and without him helping on the level that I was used to, it was very difficult for me. As I say, at the time I just didn't know how to handle it, and finally he luckily figured out how to handle it himself."
Becker, having cleaned up his drug problem, and Fagen stirred up rumors of a revived Steely Dan when they tried writing together again in the mid-'80s, but they weren't happy with the results.
But while a full-blown Steely Dan reunion isn't quite in place, Fagen's in-progress follow-up to The Nightfly is a tantalizing approximation: Becker is the album's producer, and the song list includes one of those mid-'80s collaborations.
Like the thematically coherent Nightfly, the new album, which Fagen expects Warner Bros. to release next fall, has a loose concept: Set in the near future, it follows a protagonist on his journey in an unusual car (for one thing, it has a hydroponic farm in the back).
"I guess it has a social level on which you can take it," Fagen said of the album. "It's sort of a metaphor that can be seen on any number of different levels — as a personal life story, a cultural life story. It's like, 'What do you do with what you're given, and how do you transform it into something worthwhile?' That's really what it's about."
Meantime, Becker (who lives in Maui) and New York resident Fagen have more co-written material stored away for refinement. They're also holding other songs for an "unspecified" project, and Becker is preparing music for his own album — which Fagen hopes to produce.
But Fagen issued a qualified caution against hopes for the return of Steely Dan.
"I think of (Steely Dan) as being of its time, and it may be inseparable from its time," he said. "The way we looked at things and what was going on at the time gave it a specific character which I don't think it could ever have (again)."
"I'm not saying it couldn't change into something else. But the spirit of it was a youthful thing. It's not that I don't feel terrifically spry and all that, but…"
"In those days a lot of the songs were truly collaborative in the sense that we were always with each other, we were experiencing things collectively. That's what really made Steely Dan what it was, and we don't do that anymore. But who knows? It's not impossible."
Becker and Fagen responded in separate letters to the LA Times
Becker Responds
Congrats to Richard Cromelin for his incisive coverage of the drugs-and-depression angle of the Steely Dan story ("Return Of The Nightfly," Nov. 3).
What a pleasure it is to have the sordid facts surrounding the (un)timely demise of our "cerebral rock duo" dredged up after 12 or so years. Leave it to a past master like Cromelin to realize that it would be possible to leave the first mention of the word drugs until almost the end of the first paragraph without in any way compromising the integrity of his piece.
I would also like to thank Cromelin for his generous offer to help in ghostwriting an autobiography of me, tentatively titled "Down and Out With the Dan: Drug-Crazed Guitarist Tells All," which would, he tells me, be published (initially) in weekly installments in that distinguished Australian newspaper the Outback Tattler, and for which I would be remunerated in U.S. dollars or controlled substances, whichever I prefer.
Kudos also to your photographer, whose portrait of Donald Fagen in his favorite easy chair truly captures the stately mood of part of an afternoon spent with him in his heavily armed compound hidden deep in a lush jungle valley somewhere in Paraguay.
Walter Becker
Maui, Hawaii
Fagen Responds
Regarding "Return of the Nightfly," by Richard Cromelin (Nov. 3):
Because I know firsthand that my partner is the sweetest, kindest little old partner in the whole U.S.A., I can only surmise that Cromelin's characterization on Walter Becker as "a baby-faced sadist" must be wishful thinking on his part.
Your place next time, Dick. I'll bring the thumbscrews.
Donald Fagen
New York
A CD Scandal: MCA screws up
As we stated earlier in the news, MCA has admitted to using faulty masters for the recent pressings of the entire Steely Dan catalog. It was exposed by Dan engineer Roger Nichols in the following article he wrote for the October 1991 issue of EQ Magazine.
Snap, Crackle and Pop Music
A tale of the (wrong) tape when remastering
By Roger Nichols
I originally got involved in recording music because I hated clicks and pops on record. I figured that the only way that I was going to get good quality recordings to play was to record them myself. I could then bring home two-track 15 ips copies to play on my stereo. Much better than the Rice Crispy sound of vinyl LPs.
When the Compact Disc became a reality, I was beside myself. I was also close by the side of any record company exec who could get me any discs to play on my new found CD player. Since CDs preserved all the characteristics of the original master tape, I could now enjoy music without the drawbacks of black vinyl.
Vinyl Verdict?
The first project I worked on that became a Compact Disc was Donald Fagen's Nightfly album. I couldn't wait to get the CD in my hot little hands and compare it with the original mixes. When the CD arrived, I ran to my audio system and threw the CD into my player. After about 30 seconds I was ready to throw in the towel. The CD didn't sound anything like the final mixes. Was I wrong about digital audio? Was the Compact Disc truly inferior to the vinyl disc that it was to replace?
I started doing some checking with the mastering facility where we mastered the album. Bob Ludwig at Masterdisk in New York told me that the record company never asked for the 1610 digital master that we'd made. Instead, they had requested a 30 ips half-inch analog tape copy of our digital mixes. Then they made the CD master from this analog copy. No wonder my CD didn't sound like the original mixes. After we raised enough hell, new CD masters were prepared and new CDs were pressed. I compared the new one to the original mixes.It matched perfectly. Whew!
This was in late 1982. I figured that there was a necessary learning curve for the record companies to get their act together and realize that digital audio Compact Discs should not be made from second or third generation analog tape copies. Isn't nine years enough time?
Aja-Ta
In 1982, Donald Fagen, Gary Katz and myself gathered up all of the original Steely Dan tapes (15 ips analog) and transferred them to digital format so that they would not deteriorate any further. This was in anticipation of catalog re-release in the new Compact Disc format. The first two albums to be released on CD were Aja and Gaucho. I listened to the CDs and they were fine.
Mobile Fidelity is licensed to produce gold-plated CDs of Aja and Gaucho. They called me up to ask me if I liked the sound of their pressings. I listened to them and compared them to the CDs from MCA. I figured the only difference I would hear would be the difference between the gold plating and the aluminum plating on the stock CD. I was shocked! They sounded completely different. The gold ones sounded worse. The gold Gaucho CD was even a different speed, about a quarter tone sharper than the original CD from MCA.
A writer I know called me to ask if I heard any difference between the stock CDs and the gold CDs. I told him what I found. He said that he didn't hear any difference. The lightbulp went on in my thought balloon! The stock CDs that I had were produced seven years ago and the ones my friend used were just purchased at Tower Records. I jumped in my car and zipped over to the nearest record store and purchased new copies of the CDs in question. He was right, the new stock CDs sounded exactly like the gold CDs, including the pitch shift on the Gaucho CD.
The time we spent transferring all of the original masters was wasted. The record company in their infinite wisdom decided that when they needed new 1630 CD masters to send to the CD plant, that it would be better to use the EQ'd analog copy that had been sitting around for 15 years instead of the digital tapes that we supplied to them nine years ago for just this purpose. And on top of everything else, they couldn't even make sure that the analog machine that played back the Gaucho tape was going the right speed.
I guess this is all just a part of a grander scheme — make all of the CDs sound worse and worse until we can't tell the difference between Compact Discs and the new Digital Compact Cassette that the record companies are pushing.
I went to my storage locker and found all of my old vinyl LPs. I haven't thrown my turntable away yet either. Maybe the clicks and pops aren't quite so bad after all.
Then, in the January 11, 1992 issue of Billboard, MCA admitted there was a mistake…
Master Mistake Mars Steely Dan CDs
Inferior tapes used by MCA on 7 discs
By Dan Levitin
LOS ANGELES — MCA Records accidentally used inferior master tapes in the manufacturing of seven Steely Dan compact discs, the label has admitted.
All of Steely Dan's original albums, from 1972's Can't Buy A Thrill through 1980's Gaucho, were transferred to CD from the proper master tapes for their initial run in 1985; but subsequent pressings, including current warehouse and retailer stock, were made from faulty masters.
Billboard learned of the mistake as MCA was assembling Steely Dan Gold — Expanded Edition. The new release, however, was mastered from the proper tapes. Modeled after 1982's vinyl compilation, Steely Dan Gold, the set includes two Donald Fagen solo cuts written for film soundtracks, as well as a rare live version of "Bodhisattva" from the group's 1974 tour.
Andy McKaie, VP of catalog development and special products A&R for MCA, says the first seven Steely Dan CDs will be "re-manufactured from the proper masters and released chronologically, two at a time," beginning in early 1992. The new CDs will bear a "digitally remastered" sticker.
"We made a mistake and we'll fix it," McKaie explains. "We're committed to getting the right product out there. There have been other errors which we also fixed, involving CDs from Elton John and the Who." There have been no consumer complaints about the Steely Dan CDs, he adds.
The tapes used to master the inferior Steely Dan CDs were the original analog masters; but according to Roger Nichols, one of Steely Dan's recording engineers, they were in terrible shape, due to improper storage, and had poor fidelity. In 1981, Nichols meticulously transferred them to new 3M digital masters, in anticipation of demand for CD catalog reissues. Although MCA used the new digital masters for an initial release in 1985, subsequent runs were mistakenly made from the old analog masters, which have been steadily deteriorating.
Ironically, Mobile Fidelity Sound Labs, manufacturer of high-quality, gold-plated CDs that sell for twice the price of standard CDs, was also furnished the wrong masters by MCA and used them for its Ultradisc releases of Aja and Gaucho.
Nichols' immediate reaction was one of disgust. "What pisses me off is to spend 20 years doing this, and spending two years on Gaucho alone. Two years, every fucking day in the studio, and it comes to this. I have no reason to continue. I quit. I'm quitting the music business."
Steely Dan's recordings are considered by experts to contain some of the finest engineering of all time. Gaucho won the best-engineering Grammy in 1980, and previous efforts, including 1977's Aja and 1975's Katy Lied have been hailed as recording masterpieces.
To get more information on the problem, ICE, the CD newsletter followed up with Andy McKaie, VP of catalog development at MCA:
Response from Andy McKaie
For a clarification and follow-up, ICE contacted Andy McKaie, MCA's VP of catalog development and special markets A&R. While McKaie admits the story was factually correct, he feels it may have blown things out of proportion a bit since his department has never received a consumer complaint about the sound quality of its Steely Dan CDs. (Neither has ICE, for that matter.) The CDs in question — the second run onwards — were actually remastered from the true analog master tapes, usually a best case scenario. But in Steely Dan's case, the group and engineer Nichols had painstakingly prepared better, more permanent masters back in 1985 that were used only for the first run of CDs and then inadvertently shelved.
"When digital first came in, there were many formats being kicked around," McKaie tells ICE. "One of them was these oversized Scotch reels, digitally encoded analogs. That's what Steely Dan chose. Realizing their analog masters were deteriorating, they went in and remastered all the albums on these oversized, heavy-duty reels. When it came time to do the CDs, they said 'Use those,' so on the first go-around, they (MCA employees) did. Unfortunately, the oversized reels was one of the formats that lost. So when they did the second go-around of CDs, the studio (engineers) didn't have access to those machines: there are only a couple of places that do. So, having the original analog tapes, they probably just did what they thought was right and used those. Unfortunately, those original analogs don't sound as good as the digital transfers that the group did on the oversized Scotch reels, because Steely Dan had really worked on them to get them right."
"Hence, the second CDs don't sound as good as the first, albeit they don't sound bad, and I've never had any complaints. They sound as good as the average, straight reissue CD out there today. So you're dealing with, 'Yes, they could sound better, but they sound fine.' It's unfortunate, and I feel bad about it, but it's not the same as when we did Elton John's 11-17-70 where half the CD was taken from a third generation source. We're probably going to stop all our (production) orders, remaster them all at once, sell off what we have in the marketplace and then go right into production of the new ones. We'll definitely upgrade them and put a little sticker on them so that you know they're upgraded."
McKaie says that the label does not plan to offer consumers exchanges for their old CDs. Besides that, he could offer ICE no tips or guidelines to determine the original CDs from the re-runs, but he pointed out that the initial runs were undoubtedly large. "This is what you get into when you have all these damn systems," he says in obvious frustration. "Sometimes when we remaster, we have to go out and rent a quadraphonic machine, because some of the '70s stuff was mixed to quad."
Where does this leave us?
While MCA does not have a "formal" return policy, we believe it's only fair for them to exchange an inferior CD for a correctly remastered one. Andy McKaie is not as bad as some record executives and inherited the problem so we don't think that we should make his life a living hell at this time. Since the remastered CDs will not be available for several months, there's nothing for him to offer in exchange. So there's no point in writing him until all the new CDs are in the marketplace.
What you can do until that time is to try to determine if you have any defective CDs. It won't be easy since there are no distinctive serial numbers to differentiate the pressings, so you will have to let your ears tell the difference. If you have a copy of "Gold — Expanded Edition," you can compare the sound of its tracks (which used the correct tapes) to the respective tracks on your other Dan CDs. If you can't hear a difference, you don't have a problem. If you hear a difference, make a note of what you hear that is inferior and hang tight.
After the remastered CDs are all available, you should send your inferior CDs with a nice letter to Andy McKaie detailing the differences you've found in sound quality and how you would like to exchange your inferior CDs for good ones. No threats, no boycotts, no profanity. Just communicate an expectation of a reasonable response for a reasonable request.
Make sure you get the CDs insured when you mail them, and send them "return receipt requested" to confirm delivery. We think this is your best chance to allow MCA to handle the situation maturely. We will keep you up-to-date on this situation.
The meaning of 'Haitian Divorce' (Plus a recipe)
The following article appeared in the December 25, 1976 issue of Sounds, a British publication.
The Strange World of Steely Dan
A lyrical expose' by Tim Lott
In the USA there's been three but it's the first one over here and — praise to Papa Doe and Dean Parks — it's a classic all right.
"Do It Again," "Reelin' In The Years" and "Rikki Don't Lose That Number" were the big three over the water, class commercial 45s worthy of top placing in anyone's Top Ten. But in the U.K.: a big zero.
And now, it's Yuletide 1976 and the transatlantic tables are turned with "Haitian Divorce," unreleased in the States and bombing up the charts over here.
All this has come as rather a surprise to one Mr. Donald Fagen of Becker/Fagen songwriting fame. Fagen is currently working five days a week in the studios putting together the new Steely Dan album (as yet untitled) and the success of what was the obvious single from The Royal Scam bodes well for the future.
Or was it the obvious single? ABC executives in America didn't seem to think so. Fagen explains: "Over here we released two singles from The Royal Scam — "Kid Charlemagne" and "The Fez," neither of which did anything."
" "Haitian Divorce" does have slight reggae overtones and reggae music hasn't got commercial appeal in the USA in the way it has in Britain. It just didn't occur to anyone to release it over here."
"Its success in Britain surprised me all the same because it's quite an exotic number."
Exotic, yes. Almost to the point of being incomprehensible in fact, from a lyrical point of view. The excellent guitar work being the main sales angle coupled with Fagen's unusual nasal vocalizing. But what does it all mean?
Well, the first few verses are plain enough. Babs and Clean Willy get married, right? But things don't work out somehow, and off they go to Haiti to grab themselves a quickie divorce. Then Babs heads off to some sleazy night club to drown her sorrows.
Fagen takes up the story: "If you've been paying attention, you'll know she's in a drugged stupor by now and probably doesn't know anything about it. She is later… er… impregnated by this exotic gentleman. Later she is reunited with Clean Willy and they have some rather bizarre offspring ("Who's this kinky so-and-so")."
And then the chorus marks a second expedient divorce. Fascinating stuff, and not the only interesting angle on the record. The guitar soloing was in fact performed by "two" musicians.
"Yes, it was done in quite an unusual way. Dean Parks played the actual notes but Walter (Becker) altered the sound by using a voice bag." (One of those things Peter Frampton is always sticking in his mouth.)
"I think it's really great to see the single doing so well over there. And I really like reggae — Toots and The Maytals, Bob Marley."
No doubt about it, singles are sure handy things to have — though not as lucrative for Steely Dan as they might be.
"I don't make any money whatever becomes a success, I live in a sort of financial limbo. When we were young and innocent we signed a contract which was less than sensible in the sense that we could have a lot of success and not make much money. And our studio costs have to be paid back through royalties. All the same, the single will help us to sell more albums so more people will hear the music, which is good."
Now we dolly back, now we fade to black and to an imaginary but not impossible TV studio. Mr. Blackburn stands out in front of camera three smiling in his customarily genuine manner. He joyfully introduces Steely Dan and the first chords of "Haitian Divorce" show the teenage blank-faced crowd wobbling from side to side in time to the rhythm. Blackburn talks over the last three quarters of the record as stills of Becker and Fagen doing cute things in the countryside flash up on a side wall.
Steely Dan as pop stars? In America unremarkable, in Britain bizarre. The most intellectual and customarily inaccessible of musicians providing fodder for the disco masses. Funny old world, ain't it?
The Becker/Fagen marriage is really most effective within album format. "Although we began our American career with singles, we've never recorded an album with a single specifically in mind," Fagen tells us.
"We're using session musicians (as usual) in the studio again — Larry Carlton, Joe Sample, Victor Feldman, Steve Gadd and Wayne Shorter to name a few. We still aren't using a full-time band, but some of the musicians we're getting to know intimately, er, in a musical sense, and you should see some of them if we do a tour of the USA and Europe next year as we're hoping to. But we have the album deadline to meet first."
"The new album should be quite interesting — there are some slightly extended pieces on it, numbers up to eight minutes long. We don't know when it will be released yet."
"It's very gratifying to see The Royal Scam doing well in Britain. I really enjoyed playing for English audiences — in fact, I enjoyed everything about Perfidious Albion I saw in my short visit this year."
Perfidious Albion?
Zombie recipe
Crushed ice
1 1/2 oz. lemon juice
3/4 oz. blood orange juice
3/4 oz. grenadine
3/4 oz. Cherry Heering
3/4 oz. white rum
2 oz. brown rum
3/4 oz. high-proof brown rum
Mix in a shaker with 1 scoop crushed ice. Strain into a highball glass filled with fresh crushed ice. Garnish with an orange slice, maraschino cherry, and mint sprig. (Coconut shell optional)
Letters
G'day, Pete!
One thing I have to let you in on that kinda bugs me about Steely Dan, and it's probably nothing intentional, but it's always men, men, men. You know what I mean? The latest issue of ML contains all this stuff on the musicians, producers, etc., and they're all men!!! I know you're just working with the material that's presented to you, and your pictures of Jenni Muldaur, Cindy Lauper, Phoebe Snow, and Catherine Russell are the saving graces for me, but let's talk to those girls, too! Please feature them in your musicians' profile section, if at all possible; I would be interested on getting a ladies' eye view of this whole "thang." Maybe you could even get Libby to talk to you, I'd be interested in her viewpoint.
With that in mind, I have an idea (yes, another) for a story I'd like to put together for you. It would be a perspective on how this music has affected the lives of women such as myself, why we like it, how we got turned on to it, that kind of stuff. Of course, it would be funky, though not as funky as that "Haitian Divorce" thing. Whaddya think? I've already got a working title for it — "Manly, yes, but ladies like it, too." I would like to get in touch with other women ML subscribers, if there are any, and of course feature their comments and ideas. If you think it might make for some nice summer reading (for the Spring issue), could you please get me in touch with those other girls?? I'd like to put something together before I forget my angle.
Sincerely,
Linda Kirsinikas
Westmont, Illinois
We liked the idea for Linda's story so look for it in an upcoming issue. If you've been contacted by Linda, get back to her as soon as possible. If you would like to be contacted, let us know ASAP.
—
Hi Pete/Metal Leg!
Well, here I am in the cold Northern parts of Sweden, patiently awaiting the next issue… patiently awaiting Donald's new one… I hope to get it as a birthday present, my birthday is June 1…
Regarding Steely Dan, I believe interest has recently been stirring here in Sweden. For instance: In the last week I've heard "Hey 19" and "Glamour Profession" on various radio shows, and a couple of months ago there was an hour-long Fagen special on the nightly airwaves of our National radio.
I keep spreading the gospel — I play in a tuneful rock-funk band called Broken Glass, and during the last months I've convinced our keyboard player of the Dan's greatness and brilliance. He's kind of a technical buff, so he's particularly fond of Gaucho and The Nightfly because of the crystal-clear sound, but I've also managed to sneak in a few tracks off Aja, which he really liked! That's great — another one to discuss Fagen/Becker with…
All the best,
Jonas Sjodin
Gayle, Sweden
Lyrics to Kulee Baba
In the Winter '91 issue of Metal Leg, Steve Khan revealed the titles of some unbelievable Steely Dan songs that never made it from the studio to the Gaucho record. Steve talked about such titles as "I Can't Write Home About You," "Heartbreak Souvenir" and "The Second Arrangement." The most intriguing title, though, was the mysterious "Kulee Baba." Khan spoke how it was unfortunate that these songs would never be heard by the general public. However, though some friends in the Sanitation department, we present, for your reading pleasure, the lyrics to:
Kulee Baba
By Donald Fagen & Walter Becker
My nom d'voyage is McSwain
I carry the proper papers
I've seen the primal rhythms of the bush
I preserve great moments as they come
I'm sure this must be one
Brightly colored dancers on-screen
Are no more than a prelude to the ritual unfolding
No white man's eyes have ever seen
The cruel primeval rite that you're beholding
Chorus
Kulee Baba
Coming your way, every Sunday
Live from Nowhere
Satellite relay, hello Broadway
My suit is a bright Irish green
The color and cut are striking
I'm something of a standout in the crowd
Bored with my chief engineer
I'll mix with the mob for all the folks at home
I'm tasting the local beer
And half the crew is dancing in the foam
Chorus
Sweet holy Jesus, what a night
St. Augustine was right
The cameraman began the Kulee Baba
The broadcast was over, our featured friends were gone
I hear there's a bash In New Orleans
So long for now, we must be moving on…
Chorus