Editor's Note: From 1987 through 1994, diehard Steely Dan fans turned to a small fanzine called Metal Leg for information about Donald Fagen and Walter Becker. Published first by England's Brian Sweet (who went on to write the unofficial band biography Steely Dan: Reelin' In The Years) and later by New Yorkers Pete Fogel and Bill Pascador, Metal Leg set high standards by providing solid information without resorting to paparazzi-style tactics.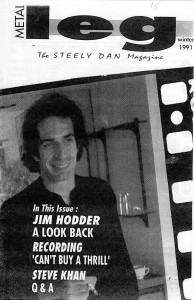 Articles
Editor's note

I Got The News

Jim Hodder: A Look Back

Radio Interview with Red Beard, 11/89

Review of CBAT from Rolling Stone

Steve Khan's "Heartbreak Souvenir"

Q&A with Steve Khan on "Gaucho"
Editor's Note
Hello again. We hope you like the new look of Metal Leg. Although it will never be as slick as Donald and Walter make their records, we're trying our best on a limited budget.
Let me just start off by saying "Yes, dreams do come true." Not to sound too corny, but standing in a sleazy little bar, with a small, but intense crowd of NY area Metal Leg subscribers who had listed phone numbers, and could respond to 24-hour notice, reminded your editor of the electricity of Shea Stadium, as a 14-year-old anticipating the first pitch of the 1973 Mets-Oakland World Series.
Everyone dreams of seeing their favorite artist perform in a venue so small, so intimate as one's living room. Well, on October 22, 1990, the dream became reality.
On a stage packed with great musicians, an ensemble of Donald's most loyal fans were treated to a once in a lifetime experience as their cynosure belted out drop-dead renditions of 4 Dan classics, and even tried his melodica luck on Jimi Hendrix's "Purple Haze."
Backstage, I overheard Jimmy Vivino, the leader of the band, say: "Man, during "Black Friday," it was like I rose above the stage and was watching the show from above"…Ahhh, so that's who kept bumping into me up there.
–Pete Fogel
I Got The News
Fagen and Becker in Hawaii
Donald flew to Maui as planned in December to continue work on his new record with Walter Becker acting as producer and Roger (The Immortal) Nichols as engineer. We hear that some musicians were flown out from the mainland, but the only one we know for sure is drummer Chris Parker who evidently on one track, played an incredible drum solo that rivals Steve Gadd's work on the title track of "Aja." The rhythm tracks are completed on five songs and are now ready for solos, overdubs, etc, etc. Donald is looking for a few more songs to complete the project and enter the next phase of recording. The parts that the musicians have played to have consisted of Fagen on the Fender Rhodes synth, and some rough vocals. All bass tracks used were synthesized so the status of bass players used in the early sessions is unknown.
According to VOX magazine, "the project is marked Top Secret, not even Warner's execs have been invited in to hear a note and contributing musicians like Rick Derringer, Larry Carlton and Wayne Shorter have been sworn to silence. (Metal Leg can't confirm the above artists'involvement).
We've told you that Chris Parker was the only known drummer to work with Fagen at The Hit Factory, but now you can add the name Buddy Williams. Williams told Metal Leg that his playing might not make the album but nevertheless, "it doesn't matter because it's great just playing with those guys and the tunes are so challenging." In fact, Buddy was called into the LA studio in the mid-'70s to do some work on what became the Aja sessions. He was never told what he was working on, and never made the record. Buddy also noted that Fagen & Becker have so much great stuff "in the can," that there is probably 2-3 albums worth of great music put away.
One of the songs in the can will be finding its way onto the new Manhattan Transfer album. The track is titled "Confide In Me" and was written by Fagen. Mindy Jostyn has also been performing "Confide" with her band and also a version of "I'm Sorry" with a new bridge written by DF.
Donald flew back to New York in late December while Walter continues his production career working with Andy Laverne, a 42-year-old pianist from NYC for three days in early January.
Gary Katz has been in England producing a band out of Scotland called Arrival, and it's still unknown to us if Gary will have a role in Donald's project.
Hades Busted: Those days are gone forever
Hades, the Upper, Upper East Side Manhattan night spot where Donald made fairly regular appearances is dead, closed by the illustrious Mayor of New York City, David "I'm not losing control of the city" Dinkins. Dave sent his "Mayor's Social Club Inspection Task Force Team" to shut down Hades since bureaucrats decided that the club had "insufficient fire exits" and a music license that only allowed three people on stage at one time. Obviously the Mayor of New York City does not own any Steely Dan records, and does not recognize how hard it was for Donald to find a place to play live that was comfortable and close to home. Doesn't it figure that after all these years, we finally get Donald out of his apartment and THEY CLOSE THE FUCKING PLACE DOWN! But we can share with you the incredible final days of Hades and the magic that happened inside this "firetrap."
Donald had been showing up alternately on Tuesday nights with Jimmy Vivino's "Little Big Band" and Wednesday nights with "The Mindy Jostyn Band." On one Wednesday night in early October, Libby Titus, who was producing the shows, arranged for major record executives to hear Mindy, who she believes deserves a record contract. Amid the record honchos, Metal Leg noticed Irving Azoff, who managed Steely Dan as head of Frontline Management in the '70s. Donald, who apparently wasn't as impressed with the dignitaries as we were, joined Mindy on stage to back Mindy on her own tunes, as well as do a little Dan. Mindy did a soulfully great job singing and playing harmonica with her own band, featuring "Curious George's" Drew Zingg on guitar, and Graham Hawthorne on drums.
In addition to Mindy's work, the surprise of the evening for us was the performance of Eric Warren, a jazz blues guitarist, blind since birth. Eric in the past has played with Elliot Randall, and Dr. John, but on this night, was on his own little island playing blues standards alongside one of his favorite musicians of all time — Donald Fagen. Donald sang and Eric played his Steinberger guitar almost blowing the roof off the place. Although Donald, as usual, remained expressionless during Eric's three songs, he must have recognized the workings of a true bluesman.
Getting advance notice on when Donald would show up at Hades was pretty tough. You just had to go every Tuesday and Wednesday and keep an eye on the front door. But for Tuesday, October 22, we got the word that Fagen would definitely show. So, as a courtesy to our subscribers who live in the New York City area and have a listed phone number (and you know who you are), Metal Leg gave them a tip on a night they'll never forget.
The weather that night was horrendous with torrential, wind-blown rain that made driving nearly impossible. The staff at Hades was sure that only a few neighborhood people would show because of the weather and that supposedly no one else knew about the show. Metal Leg's editor and publisher made a frightening cab trip crosstown to the gig, and hoped that Donald wouldn't cancel.
As we wandered into the club, and settled at the bar, we started meeting our brave subscribers, one after another who braved the weather. And by showtime, Metal Leg subscribers made up about 80% of the people that packed this small club.
And as Donald made his way to the stage, you could feel the electricity in the air. Phoebe Snow came up for the first couple of songs and warmed up the audience for what was to come. Musically, the entire band was the tightest that they'd ever been. And after some R&B tunes, Steely Dan's "Black Friday" started the frenzy, with Jimmy Vivino's guitar and backup vocals demonstrating that practice makes perfect.
Then we noticed that Paul Shaffer (Late Night With David Letterman) and Noel Redding (bassist with the Jimi Hendrix Experience) had taken a table right in front of the stage. After a few more R&B songs, Paul and Noel took the stage and the audience screamed for "Purple Haze." Donald asked Paul for some lighter fluid to set his Melodica on fire, which got a laugh from the crowd, and then they launched into the song with Paul on vocals. Donald wasn't sure if the Melodica was the best accompaniment to Hendrix so he just played a few notes at the beginning and end of the song, but it was still a sight to see.
Paul and Noel took their seats again and Catherine Russell was asked to come up to the stage to do backup vocals on the next two songs. "Chain Lightning" gave all the musicians on stage a chance to do a solo, resulting in a long version of this great blues song. But, then the best was yet to come, as we watched Paul Shaffer's jaw drop to his knees, the opening bars of "Home At Last" sent the crowd into ecstasy. The chorus was slowed down to a reggae beat, and Kevin Bents piano fills were brilliant. Donald maneuvered Jimmy's band through this complex arrangement as a philhamonic orchestra conductor would have done. In short, this was magic.
Paul's new wife wanted to beat the crowd out just as Donald was starting "Pretzel Logic." With his wife pulling him towards the door, Paul seemed to resist and he turned back for the end of "Logic." When asked about what he thought of the show, Paul replied on the way out, "I just wish I could have played on some of that Steely Dan stuff."
Hades, may you rest in peace.
Burroughs on Film and CD
William S. Burroughs' heroin-laced 1959 novel Naked Lunch, from which the Steely Dan name was borrowed, is being brought to the screen by horror movie director David Cronenberg (The Fly, Scanners, Dead Ringers). Burroughs said in Entertainment Weekly, "David and I get along very well" and "He's taken the spirit of the book and joined it with his own fantastic imagination, so it's really a hybrid." Plus, says Burroughs, "He shares my interest in guns and shooting." The movie, which begins production in January, will star RoboCop's Peter Weller. Will Donald and Walter do the soundtrack?
Speaking of Burroughs and music, Donald Fagen contributed a "musical" backdrop to a selection called "A New Standard by Which to Measure Infamy" from a collection of readings by Burroughs on a recording called "Dead City Radio." The track runs 1 minute and 47 seconds and is something for those of you who enjoy "interesting" concepts in performance art.
New York Rock & Soul Revue II
Everyone wants to know when Donald's going to have another record out. Well, although he's still not done with his follow-up to The Nightfly, his sideline gig as a New York Soulster will be recorded for nationwide release, most likely before his solo project hits the racks. The New York Rock & Soul Revue in April 1990 was so critically acclaimed, that Fagen and the all-stars decided to do it again on March 1st and 2nd at the Beacon Theater in New York City. The lineup includes Michael McDonald, Phoebe Snow, Patti Austin with backup by Jeff Young's "Curious George" band (soon to get a new name, "Jeff Young & The Youngsters") Charles Brown, the great New Orleans pianist, and Boz Scaggs will also featured. The show will be recorded for release as a live album and will be filmed for Pay TV and/or home video. We can expect more, of the great rock and soul music that was showcased at the last show, with some Dan and Doobies thrown in for good measure.
NY area subscribers should have received a postcard with the concert news in mid-January. Other subscribers outside of the NY area who would like information on future shows should drop us a note with their phone number.
Jim Hodder: A Look Back
By Brian Sweet
Metal Leg Founder
As mentioned in the July edition of Metal Leg, Jim Hodder, bronze God, pulse of the rhythm section and one of the original five members of Steely Dan, died on June 5th, 1990 by drowning in his swimming pool at his Point Arena, Cal., home. He was 42.
Jim began his musical career in Boston as a child when he learned to play the accordion. But, he knew even then he was not following his natural calling because "I was always banging something." Eventually he got his first drum kit and just kept "banging away" until he joined the Bead Game, Boston's own resident hippie band. "You know, we all lived together in one house, never rehearsed, and when we got on stage, we were really sloppy. But people came to hear us anyway."
During his stint with the Bead Game, Jim met Gary Katz who became the band's producer and it was he who suggested Jim to Donald and Walter as drummer for their soon-to-be assembled group. In an early group biography, Jim was quoted as saying: "I like what I play in this band. I like to play strong rhythms, nothing too fancy, but strong. I like to make things go."
Not only did he drum on the first three albums, he actually sang two fine lead vocals, firstly on Steely Dan's debut single, "Dallas," and then "Midnite Cruiser" from Can't Buy A Thrill. During the Dan's UK tour in 1974 the Melody Maker described his drumming as "metronomic, the perfect foil to Jeffrey Porcaro's more ambitious approach."
Speaking about his drum duet with the prodigious Porcaro which was then featured in Steely Dan's set, Jim said, "I like having the two of us drumming. It doesn't always work in groups and both of you have to forget about your ego. With us it sounds like one guy playing at times, but it makes for a better combination of sounds. From the time the band was put together, Donald wanted two drummers. I was against it at first, but what the hell, we had two guitarists and two keyboard players, so why not two drummers? And my favorite band has two drummers — Frank Zappa and the Mothers. It can work like a locomotive, especially on tunes like "Do It Again." It gives us both time to relax in different parts and we can concentrate more on the next fill.
"And of course, you can pick your nose or drop a stick and nobody notices! What we have to watch out for is Donald when he conducts those long endings. It's great material to play in this band and we only clash occasionally, but not so that anybody in the audience would notice. That first LP we did was only rehearsed for a couple of weeks and I didn't even know the other guys. So it turned out remarkably well."
Asked about his time before he was invited to join Steely Dan, Jim said: "Before Steely Dan I did a lot of session work around the Boston area and got screwed by managers, the usual thing."
To the members of Steely Dan one of the most irritating things then was the "glitter and platform shoes" image which a lot of bands were utilizing to good effect. Jim told the Melody Maker: "it seems everybody has to have a glitter image and I can't stand that. Nobody in the group can stand it! But the fact is we've been accepted without glamour and fancy clothes. The whole glitter bit is stupid — it sucks."
"It's true we had two hit singles, and our second LP we didn't have any hits, so we had to be a little bit more commercial on the third one. Artistically, Countdown was our best LP, but for the sake of survival of the group, we had to go more commercial on Pretzel Logic. But I think Donald and Walter are the two best songwriters since Paul McCartney and Paul Simon. You've gotta have material. Us and the Doobie Brothers and the Eagles all started off at the same time, and I think good American bands are coming back."
Jim left Steely Dan in 1974 at the same time the Skunk left to join the Doobie Brothers. It was widely reported at the time that both departures were due to Becker and Fagen's staunch refusal to tour again, and that probably isn't far from the truth.
Radio interview with Redbeard, 11/89
In the studio: "Can't Buy A Thrill"
The following interview was broadcast during the week of November 29th, 1989 and features Red Beard talking to Walter and Donald about the history of Steely Dan.
Red Beard: There has always been something mysterious about the music of Steely Dan, the music they made was exotic and distant, different somehow from the rest of what was on the radio.
Pop music before Steely Dan came along had never been quite this edgy; it had never been quite this cool. What added to the mystery was the fact that Steely Dan was never really a band, not in the traditional sense; oh, there were musicians all right, wonderful musicians like Jeff "Skunk" Baxter and Elliot Randall and Denny Dias. Over the years, though, the musicians would change, but the heart of Steely Dan, the shadowy figures who created it, all remained constant. They continued to weave their strange musical tapestries into some of the most critically acclaimed and popular albums of the 1970s: their names Walter Becker and Donald Fagen, and they were the ones who brought Steely Dan to life. They never meant to be pop stars and in most ways they never were; they didn't like to tour, they didn't like to pose for photos and they didn't like to do interviews. To this day, Donald Fagen doesn't really like the sound of his singing voice, to this day he's uneasy with the notion of being a star.
Donald Fagen: I didn't start out to be a singer, and I ended up being a lead singer of Steely Dan by accident really, when we just couldn't find someone who could convey the proper attitude that Walter and I envisioned. You know, I toured for two years with the band as a front man, but it was too stressful for me (chuckling). I'm basically a composer and I enjoy playing a lot, but singing to me makes it a job in a way. 'Cause it's not as easy for me to do as to play, and it doesn't flow as easily. But lately I've been getting back into it and I take a few lessons, singing lessons, from time to time, and maybe I'll start doing some more.
(Plays "Do It Again")
RB: With Denny Dias playing the electric sitar, that's Steely Dan's first single (sic), "Do It Again," from their debut album Can't Buy A Thrill, released in the fall of 1972. Walter Becker and Donald Fagen met in the mid '60s when both were students at Bard College in upstate New York. Becker remembers when he first heard of Donald Fagen.
Walter Becker: When I got there Donald had already been there for two years, and he had this good band and all of the gigs that there were on the campus. So I told him that I wanted to play the bass in his band and he said "Well, gee, I've already got a bass player" and that was that. Then at some point subsequent to that he heard me playing the guitar and he had three guitar players in his band and none of them were really any good so we got a new band together. I was the guitar player and we started writing shortly after that.
DF: By that time, I had had a couple of bands with personnel that dropped in and out and I was looking for a good guitar player. I heard him practicing in this kind of campus club, and before I saw Walter I heard him playing from outside the club and I thought it was some kind of authentic blues person 'cause it was very … just the technique he was using and the sound was really great-sounding, really authentic sounding. Then I went in this club and there was this white kid with blond hair playing the guitar — a red Epiphone guitar, actually — and the reason he sounded so authentic was he had learned from another kid called Randy California, who had a couple of bands in the '60s, and he was a neighbor in Queens and Randy in turn had learned from real blues people 'cause his father had been in blues bands for a long time. So actually Walter is in some sort of line of authentic blues players and we immediately got along very. We had a lot of things in common, we were both jazz fans who had also become interested in blues and rock 'n' roll and had a similar sense of humor and so we really hit it off right from the beginning.
(Plays "Brooklyn Owes The Charmer Under Me.")
RB: That's "Brooklyn," written by a couple guys that know a little bit about Brooklyn, Walter Becker and Donald Fagen, but that's not Donald Fagen singing the lead vocal. In 1969, Donald and Walter left Bard College and went to New York to try their hand at being pop songwriters. They worked for a while at being back-up musicians for Jay and the Americans, and they also met up with a producer named Gary Katz. It was Katz who, in November of 1971, got them jobs in Los Angeles as staff songwriters for ABC Dunhill Records.
WB: They gave us a little office and we were supposed to write songs that some of the other artists on the label could do, but as it turned out, the songs that we wrote none of them were really very suitable for. They had at that time The Grass Roots, Tommy Roe, Hamilton Joe Frank and Reynolds and Donald and I weren't very good at writing songs for other people — especially for those people — so we tried to write some songs that would be of interest to those people. And they weren't, so we decided we had better just continue along with what we had in mind, which was doing our own record featuring our own bizarre songs.
(Plays "Kings")
RB: That's called "Kings," with a guitar solo by Elliot Randall. What originally had drawn Becker and Fagen together was their shared love of jazz, and certainly jazz influences were a big part of the Steely Dan sound. The obvious question is why didn't they become jazz musicians themselves, why did they turn towards pop?
WB: Jazz had kind of dead-ended in a modal, improvisational style that was not really interesting to me or Donald. And in fact most of the fire and creative energy that had once been invested in jazz music was now in pop music and that seemed like the direction to go in for both of us, so we were aware of the fact that although jazz was a wonderful kind of music, it wasn't necessarily of any interest to anybody else at the time. The things that we tried to do were primarily influenced by blues and the pop music scene in general as it existed at that time.
RB: With Gary Katz lobbying heavily on their behalf, executives at ABC Records finally decided to let Walter and Donald record their own songs — material that had been considered too strange for more mainstream artists — and if the music was unusual for more mainstream artists, so was the name they chose for their band.
WB: The name was borrowed a dildo that was in the book The Naked Lunch by William Burroughs. We were stuck for a name and we had used this particular name before in a song, and now we had a steel guitar player in the band. It seemed like a good name to us. In fact, it turned out it had a certain zing to it, and helped the band be popular at the beginning I think.
(Plays "Midnight Cruiser")
RB: "Midnight Cruiser" with the lead vocal by Jim Hodder. There were a number of lead vocalists on Can't Buy A Thrill, including David Palmer who was brought in halfway through the sessions to sing the songs "Brooklyn" and "Dirty Work." The reason was because Donald Fagen simply didn't feel comfortable as lead singer. I asked Donald how the band felt at his insistence that other people sing some of the songs.
DF: Well, I think they were … they had a conflict about it on the one hand, because Walter and I wrote them and knew what they were about and understood the attitude that was best to convey them, they realized that I could do that. On the other hand, I had a very small range and really hardly any experience, and they sort of looked at it two ways, on the one hand they wanted somebody with a bigger voice, a kind of thrilling rock 'n' roll vocalist, but on the other hand I think everyone knew that we just weren't gonna find anybody who could convey the attitude which was really the most important thing, so they wanted me to do it. So there was some pressure, and finally after Dave Palmer did a few tracks — which he did quite well — it wasn't really representative of what the thing was all about. So finally Dave left and I was elected, really.
RB: By the end of their first tour, before the second album started, David Palmer was gone and Donald Fagen, like it or not, was the voice of Steely Dan.
WB: David Palmer left — I guess now it can be told. It was obvious at the time to us that the real sound of the band was Donald's vocals, and moreover David's live performance style was kind of at odds with what we were trying to project as a musical entity, and so there was just an amicable parting of the ways. You know it had kind of been an afterthought that David joined the band, mainly for purposes of live performance, and it just didn't really pan out that well.
(Plays "Dirty Work")
RB: With David Palmer on lead vocals that's "Dirty Work." Although Can't Buy A Thrill was released in late 1972 the first single, "Do It Again" didn't hit the charts until February of 1973, but it went higher than anyone could have guessed, going all the way to number six. Considering that most people had considered most of his songs uncommercial, I asked Donald Fagen if he was surprised at the extent of Steely Dan's mainstream success right out of the shoot.
DF: We were very, very arrogant teenagers — well, we were in our twenties but we were still basically teenagers — and we always felt that we would … one of our things would hit. We were extremely confident and although it was very exciting, I think we probably downplayed it among ourselves in a way, because for one thing we figured it would be just a one-hit deal, so we sort of said "Well it's a hit, but a lot of people have these one-hit records and so what?" and it was also something frightening about becoming known.
(Plays "Fire In The Hole")
RB: Another fine one, that's "Fire In The Hole." The album soon went gold, peaking at number 17 in the chart. Steely Dan's first was a hit and that made Donald Fagen a little uncomfortable.
DF: You know, before, we were having a lot of fun playing, and all of a sudden there's all this pressure and we start rehearsing more and trying to make it really tight. There was a lot of pressure on me, too, because all of a sudden I realized that, well, the sort of point of no return, where now I'm the lead singer of a rock In' roll band and is this really what I want to do? It was both very exciting and also frightening at the same time.
RB: In the years following Can't Buy A Thrill, Becker and Fagen slipped further and further out of the public eye. By 1974 Steely Dan had stopped touring. Becker and Fagen never really fit into the music business machinery, something that Fagen realized even before the first Steely Dan tour.
DF: The whole pop scene had been changing while we were rehearsing this band and making a record, and by '72 or '73 it had become something unfamiliar to us. There was a lot of spectacle beginning to start in rock 'n' roll and we'd end up opening for bands with very high shoes. A lot of British bands with very high shoes, and also a lot of Texas blues bands, and we could just see both the audiences and the music was changing a lot.
I think for us having come out of jazz and the sort of New York Bleecker Street scene, folk scene and folk-rock scenes, the whole sort of visual spectacle part of touring was really not something that we were familiar with. 'Cause we used to go to see jazz in clubs and jazz musicians — especially in the '50s — although they had their own kind of show business, it didn't have that much spectacle aside from the spectacle of musicians playing and their personalities and so on. So when all this started happening, because we weren't that kind of performance, it seemed very strange and also the audiences started being a different kind of audience than we were used to.
We were touring in mid-America and the South, and people basically wanted to have a party and we got a lot of "Let's boogie!" Originally we were opening for a lot of heavy metal bands, because those bands always tour, they always need opening acts. So we did a lot of those. It was very strange even though the audiences really liked it, generally speaking; it was a very strange scene. I think we felt alienated from the whole thing soon after we started, really.
(Plays "Only A Fool Would Say That")
RB: As Becker and Fagen retreated into the safety of their recording studios, Steely Dan's music reached more people than ever. The mystery surrounding its creators seemed only to add to its appeal.
WB: You know I spent the better part of a decade of my life working on those records and songs, and I'm glad that it's held up stylistically and is still appealing to people ten years later or twenty years later. I'm glad that it's held up better than some of the clothes I was wearing at that time or my haircut. I think that that's rewarding, and it's also nice to think that there are enduring values in things that will make them continue to be of interest, even at a time when styles are very different and that it's possible to tap into those values and make something that will last.
RB: I'd like to thank Donald Fagen and Walter Becker for reelin' in a few of the years with us this week. Congratulations to Walter Becker on his production of Rickie Lee Jones' new album and we'll be anxious to hear Donald Fagen's next solo LP. Thanks a lot guys.
Review of CBAT from Rolling Stone
By James Isaacs
November 23, 1972
Mary is strapping on a rubber penis.
"Steely Dan III from Yokohama," she says, caressing the shaft.
"What happened to Steely Dan I?"
"He was torn in two by a bull dyke. She could cave in a lead pipe."
"And Steely Dan II?"
"Chewed to bits by a famished candiru in the upper Baboonsasshole. And don't say "wheeeeeeee!" this time."
— William S. Burroughs, Naked Lunch
I doubt that "wheee!" will be your response to this Steely Dan, an L.A. rock band that is headed by a pair of transplanted Gotham mavericks named Donald Fagen and Walter C. Becker. If you figure that the group's moniker and the blow-job lips and floozies on the hideous cover portend an album of cast iron cuts, figure again, friend. The Dan's forte is more cha-cha-cha than churning chomp.
The insipid liner notes tell us that the boys have paid their music-biz dues. One Dan was even a member of Ultimate Spinach. There is no mention, however, that composers Donald Fagen and Walter Becker learned the trade by playing the famed Catskills with the inimitable Jay and the Americans. As if that weren't enough, they penned "I Mean to Shine," recorded recently by Barbra Joan Streisand.
Somewhere in the course of two years many of the idiosyncratic touches of Fagen and Becker were scrapped in favor of a more salable songbook, borrowing liberally from CSN&Y, Procol Harum, Spirit, the Band and sundry Motown hits.
The set begins promisingly with "Do It Again," which uses Spirit's approach effectively. Employing a minor-key melody with a major-key bridge, the tune is fully developed and the mix is dense enough to give it AM possibilities, if some of its six minutes were chopped. Fagen's rancorous voice effectively sells the engaging lyric, which deals with man's propensity for repeating his folly. And give Denny Dias an "A" in chutzpah for that nice solo on electric sitar. "Dirty Work" works because it juxtaposes David Palmer's sweet tenor voice with misogynistic lyrics. Side two opens with the superb "Reelin' in the Years," a rocking Moby Grape shuffle that spotlights guest Elliot Randall's biting lead guitar, more acrid 1965 Dylan-derived verse, Fagen's best vocal and Becker's tough, propulsive bass.
Can't Buy a Thrill (the title, of course, was lifted from a line in Dylan's "It Takes a Lot to Laugh") is distinguished by three top-level cuts and scattered moments of inspiration, but there are those instances of Steely coming on like a limp dildo. Too bad — great title.
Steve Khan's "Heartbreak Souvenir"
Steve Khan dropped Metal Leg a nice note early in December where he reflected on playing with Steely Dan.
Dear Pete:
The greatest concentration of work that I did for them was during the "rhythm section" dates for Gaucho.… At times fun, but a fundamentally excrutiating process… a process fallen victim to, in my opinion, the completely unnecessary excesses of big budget record production. As the years go by, I'm more likely to reflect on four of the tunes that were never finished than on what now remains on the recording… Songs like "Heartbreak Souvenir," "I Can't Write Home About You," "Kulee Baba" and the now infamous "The Second Arrangement" (erased by an assistant engineer). In my opinion, it remains that there is at least one version of each of the aforementioned tunes that would have made any artist thrilled to have on their recording… Now, they'll never be finished and never heard. I recall reminding Donald about how great "Heartbreak Souvenir" was with a track that featured some classic Bernard Purdie and Anthony Jackson… When one more song was needed to finish Gaucho, they decided to pull out "Third World Man," (cut during the Aja sessions) as Donald felt that "Heartbreak Souvenir" would be "too hard to sing"…
Though I'm most often asked about what I played on "The Glamour Profession," my best memories are of what Jeff Porcaro, Anthony Jackson, Rob Mounsey and I went through to save the song "Gaucho" from being "given up on" by Donald & Walter. Donald & Walter had already gone home for the night… it seemed like they were resigned to the fact that "Gaucho" would NEVER find a track that worked for them. It's my recollection that Jeff and I went into the control room and essentially begged Gary to let us stay and try a few more takes and if nothing was happening, we'd quit too… But we all knew we had something going and fortunately Gary heard it too… The next day, Donald & Walter came to feel the same way… Sadly, Anthony's interpretation no longer remains. I would state that through it all, I spent a week cutting the same songs, each done with three of my all-time favorite drummers… Rick Marotta, Jeff Porcaro and Bernard Purdie… They all played with consistent brilliance. I regret that I haven't had more opportunities to work with Jeff as he's such a gifted player.
Q&A with Steve Khan on Gaucho
We decided to follow up on some of the things Steve mentioned in his note.
Metal Leg: Your first work with Steely Dan was on Peg. Did you attempt the solo which so many other people tried?
Steve Khan: I was never asked to "take a crack at it," so they didn't have the chance to wipe me out!
ML: Donald and Walter are renowned for being difficult with guitar players over solos. Were you competing against any other guitarists for the solo on "My Rival"?
SK: I "think" that the only player who took a shot at it was Rick Derringer, but, I don't know for sure. Donald's instructions were: "I want this to sound like Howlin' Wolf's guitarist IF he could play these chord changes." It was done on a Telecaster and we tried many amps, but, I don't remember which one got the closest to a sound Donald liked…
ML: Have you worked on any of Donald's aborted projects since The Nightfly?
SK: Since The Nightfly, I have not participated at all in any of Donald's recordings where songs are concerned.
ML: We have read that "The Second Arrangement" was to have been the title track of the album (Gaucho) at the time. Did you play on that little gem?
SK: The version of "The Second Arrangement" that was the take had Hiram Bullock on guitar but I'm not sure who made up the rest of the rhythm section.
ML: Can you tell us more about the three other songs you mentioned: "Heartbreak Souvenir," "I Can't Write Home About You" and "Kulee Baba"?
SK: There's not much to tell, but I can say without any hesitation that, to me, they were tremendous tunes… and I'm sorry that they never got completed.
ML: You say that "they'll never be finished and never heard" and we believe Roger Nichols actually erased Donald's vocals when recording was finished to prevent the record company from using them illegitimately at some future point. But at the same time weren't special copies made purely for Gary Katz's own collection?
SK: I can't say for sure, but I would guess that it's possible that Gary, Donald & Walter all took home "work cassettes" of the aforementioned tunes.
ML: Weren't both "Babylon Sisters" and "Aja" virtually first takes? Why do you think they could accept that and then be fastidious about other songs?
SK: I can't say anything about "Aja," but "Babylon Sisters" was possibly only a second take at the most. The only reason was that when Bernard Purdie says, "That's it fellas!" and puts on his coat and hat and splits… then, even for Donald, Walter and Gary… "That's it!"
ML: Walter was obviously having personal problems around the time of Gaucho. What effect did this have?
SK: Perhaps the MAIN reason I ended up doing so much of the guitar work is that Walter broke his leg when he was hit by a car and couldn't leave home.
ML: It's an interesting story about Gaucho, which, by the way you tell it, might also have been consigned to the scrap heap if it wasn't for some of the musicians' determination to make the track work. How would they go about making the final decision whether a track was acceptable or not? A majority vote? Or perhaps a unanimous vote between the three of them?
SK: In my opinion the ONLY thing that makes a track "acceptable" to the "Big 3" is if they deem that the "drum track is perfect." Everything else is pretty meaningless and can be replaced at a later date. To my knowledge, a "majority vote" never won anything, it had to be unanimous.
ML: Your only credited work on The Nightfly is on "The Goodbye Look." Did you play on any other discarded tracks?
SK: "The Goodbye Look" was the only track that I played on on The Nightfly. I'm told that my overdub was the last one for the recording. Larry Carlton played brilliantly throughout the entire project, so what can you say…
ML: Whose decision was it to record "Reflections" on the Monk tribute album That's the Way I Feel Now in 1984?
SK: Donald was initially asked to contribute something to Hal Willner's Thelonious Monk tribute… As Donald was a fan of my recording of "Evidence," he asked Hal if he could do something with me. As most of the other artists were going to do the medium to uptempo tunes, I suggested that we treat one of the ballads and demonstrate how beautiful Monk's writing could be… hence "Reflections."
ML: We first heard "Shanghai Confidential" on a tape from a dancer called David Parsons who told us that Donald had written it especially for him. When did your involvement with the song begin?
SK: I can't remember much about what became "Shanghai Confidential" except that it was recorded at the Sound Factory on 54th street and that I hated the mix and was really upset that it was the mix that got released because that's not the guitar sound we had when I left the studio… When a Stratocaster gets placed further back in the mix the sound loses its body and "thins" out. So it was a big disappointment for me. And yes, it was composed for a dance concert.
ML: When Donald asked you to assist him on the music for Bright Lights, Big City, did this inspire you to do more film music?
SK: Again, I was just a sideman. I don't really have much interest in doing film scores at this time, and don't know that I have the talent, patience or skills for that kind of work.