Editor's Note: From 1987 through 1994, diehard Steely Dan fans turned to a small fanzine called Metal Leg for information about Donald Fagen and Walter Becker. Published first by England's Brian Sweet (who went on to write the unofficial band biography Steely Dan: Reelin' In The Years) and later by New Yorkers Pete Fogel and Bill Pascador, Metal Leg set high standards by providing solid information without resorting to paparazzi-style tactics.
Metal Leg 4 Articles:
Introduction
Welcome to the fourth edition of Metal Leg. It seems like it was only yesterday that I first contemplated the idea of a Steely Dan fan magazine, and I'm pleased to say that our numbers are growing by the day. If only Walter and Donald would put a record out…
In the October issue of Metal Leg I mentioned the existence of a "Gaucho" out-takes cassette containing half of a previously-unreleased track entitled "The Second Arrangement." In addition to the aforementioned song, it includes "Babylon Sisters," "Gaucho," "Glamour Profession" and "My Rival."
Once again Donald Fagen has an article in the January edition of Premiere magazine, this time dealing with a "charming barcarole" (a kind of song that Venetian gondoliers sing!) from a Delibes opera called Lakme, which he finds irresistible. It's an entertaining, if brief, piece entitled "In The Throes of Lakmania," again written in Fagen's own distinctive style. It seems that he may have discovered a trend in that this particular song has appeared in no less than three separate films recently: firstly, "Tony Scott's kinky little picture" of a couple years ago, "The Hunger," with Catherine Deneuve and Susan Sarandon; secondly, the new Ridley Scott (Tony's brother) film "Someone To Watch Over Me" and finally a Canadian art film entitled "I've Heard The Mermaids Singing." This man is obviously not only a Lakmaniac but a movie maniac, too!
Rosie Vela is recording her second album at the moment, but who knows whether or not our two exasperating, elusive idols will bother to show up this time.
Sun Mountain/Berry Town
I think many of you will probably by now have obtained copies of either or both of the above albums. I stumbled across them together back in September 1986 at Virgin in Bristol and Sun Mountain was retailing then at 1.99 British pounds — which is what I consider a bargain! Naturally, the first section I look for in a record shop is the S's — you never know what might surface completely unannounced, as happened with Sun Mountain and Berry Town.
After the initial burst of excitement had subsided I contacted Castle Communications in London and asked the personable girl at the other end of the phone where these rarities had emerged from. She said the recordings were made in 1973 in Nashville, Tennessee, and sent me a copy of the list of tracks from which Castle selected the ones that eventually made up Sun Mountain.
There were 31 songs in all, and all except four have now been released in some form or other. The four outstanding tracks are: "Undecided," "One Ticket To L.A.," "Mr. Lyle" and "Any Way You Want It." I've been informed that some copies of Sun Mountain inadvertently list the latter song as being included (it's not), but that could be nothing more than a tantalizing record company plot to drive some of the more rabid among us to drink!
"Undecided" is listed as "Demo DL," which indicates that the vocalist was the "other lead singer in the band at that time" (Keith Thomas); "Mr. Lyle" is attributed to both Walter and Donald's vocals and "One Ticket To L.A." and "Any Way You Want It" are merely credited as piano and voice.
Only four songs on Sun Mountain are actually comprised of anything more than very basic piano and voice demos, and the introductory number is a slightly somber-sounding version of "Berry Town." The song was vastly improved when it appeared on "Pretzel Logic"; it was faster, livelier and altogether more optimistic.
The title track itself is a marvelous early example of Becker and Fagen's fledgling songwriting talents, but the opening is marred by the appalling recording quality. It sounds like the kind of ballad that David Palmer might have been called on to sing in his brief spell with Steely Dan. Or perhaps the kind of gentle song they might later write for ex-Jay and the Americans sideman Thomas Jefferson Kaye.
An acoustic guitar introduces "Ida Lee," an unlikely choice of name for a sexy, party-loving girl, but she's the girl of their dreams, all right. The dry humor is there, too — in the same verse they succeed with a couple quick-fire puns: "Put out the candle/blew out the cat" Fagen sings, and then almost immediately, "We're all on the chaise lounge." This must have been some party!
"Sun Mountain" contains two more tracks than does "Berry Town," those being "The Caves of Altramira" (sic) and "A Horse in Town." On the former, we are treated to a jazzed-up piano intro, to an extra verse from the version which later surfaced on The Royal Scam and to Walter dueting with Donald on parts of the chorus. The expressive piano playing counterpoints Donald's flat monotone.
In a 1976 interview with Mick Houghton, replying to his suggestion that "Everyone's Gone To The Movies" might be an old song, Walter said, "Actually, "The Caves of Altamira" on the new record is probably older than "Movies." Occasionally we find one and rewrite it."
Houghton: "That would seem a good example of an old song which must have been considered too far out at the time. Were you less disciplined writers then?"
Fagen: "I would say so. Some of the songs were probably more ambitious and therefore more likely to be failures in actual execution."
Becker: "In the case of "Altamira," I don't think it was any less disciplined a piece of writing than the other songs on "Scam," written within the past year. It was more complicated rhythmically in its original form."
"A Horse In Town," the first track on side two, features Keith Thomas on lead vocal. The arrangement here suggests to me that it wouldn't have been misplaced on "You Gotta Walk It Like You Talk It." Close listening reveals the recording level being steadily increased as the song gets under way. It's by far one of the most complete tracks on the album, with up-front guitar, bass, drums and even background vocals.
For some reason the next track, "The Roaring of the Lamb," is only one minute long, consisting of just one of the later verses and a chorus. On "Berry Town" the song appears complete, but that doesn't make interpreting these very weird lyrics any easier — for me at least! What is this all about?
"Parker's Band" is Donald and Walter's tribute to Bird, including token percussion, awkward harmony vocals from Walter and a reference to Parker's recuperation from illness at a hospital in California: "Relaxin' at Camarillo."
While at first it seems like just another lost love song, "Oh Wow It's You," upon closer inspection, has evil implications lurking beneath its apparently innocent exterior. I think this is another good example of a favorite technique of theirs whereby they disguise the underlying meaning of the words with a harmless-sounding melody.
Winding up "Sun Mountain" we find "Take It Out On Me," a song frequently mentioned by Donald and Walter in interviews when asked about pre-Steely Dan material. The narrator of this song appears to be imploring his love to take her pleasure at his expense — inflicting upon him the most painful and pleasurable sado-masochism she can imagine. In the final lines of the song he is attempting to banish her feelings of guilt and persuade her that, as long as they are both willing partners in this, it's really nothing to be ashamed of.
"Sun Mountain" is, in my opinion, superior to "Berry Town" (although it's the latter that's been released on compact disc) because, not only does it have the two extra tracks but the packaging is so much better. It displays a much-used Neil Preston shot of Becker and Fagen on the cover: they loom ominously over the photographer, replete with the omnipresent sunglasses, looking like two homogenized, hirsute hard cases as the sun sets on some Hollywood hillside.
By comparison, the cover of "Berry Town" is utterly unimaginative, with art work that looks like it was done by a ten-year-old (no offense intended to any younger readers we may have!). Presumably when Bellaphon obtained these tapes they were so eager to capitalize that they gave no thought whatsoever to the packaging, preferring instead to just rush-release-and-be-damned. (I think similar comments may be applied to the CD releases of "Old Regime" (basically "The Early Years" on CD in all but name) and MCA's "A Decade of Steely Dan," the cover of which displays all the style of a crumpled paper bag! At least MCA had the decency to list the musicians on the earliest tracks, which heretofore had remained for the listener to puzzle over).
I think it's likely that Donald and Walter are squirming with embarrassment, not to say wriggling with resentment, if they are aware of the availability of this old material. This raises an interesting point: Where does artistic control begin and end and, above all, who exercises that control 20 years on? Well, that's another argument again…
Your Mother Wouldn't Like It
This is a full transcription of a two-hour interview that Walter Becker and Donald Fagen gave to Nicky Horne on Capital Radio on May 25, 1976, in order to promote their just-released LP The Royal Scam."
NH: Good evening, I'm Nicky Horne…
DF: … and I'm Donald Fagen…
WB: …and I'm Walter Becker…
NH: …and we're gonna play some music that your mother wouldn't like.
Plays "King of the World"
NH: Good evening, gentlemen, and welcome to Capital. In fact, Walter, this is your second visit here, 'cause I remember you came in about a year ago with Jeff Baxter.
WB: I think that was one of the other lads, but thank you anyway.
NH: Anyway, welcome back to Capital. You've brought a lot of albums over from America and — what sort of stuff have you brought? — 'cause it's all very varied.
DF: Yes, well most of the stuff that we've brought is actually out on the street now. It fell out the window, I don't know, a little accident, but we've picked some wonderful albums from your record library that we'd like to play.
NH: Also we'd like to take a few telephone calls, if that's all right with you. So if you have any pertinent questions to Donald or Walter, we'll open up the telephone lines in about 10 minutes or so. How about some music from Buffalo Springfield?
WB: All right.
Plays "Rock and Roll Woman"
NH: Donald and Walter, one of the questions everyone's been asking on the telephone is what brings you to London, because you're not going to be doing any gigs presumably, or are any planned?
DF: No, well there's the Napoleonic Museum in Monaco; we've just got back from there, and we saw England and we saw France and we saw Bonaparte's underpants.
NH: I understand that you really enjoyed your visit to the south of France.
DF: Yes, it was lovely.
NH: I think there's someone on the phone, but no questions about what color socks they wear, all right? One of the records that you've chosen, Walter — it's like Desert Island Discs this — is a Chuck Berry record. Why specifically this?
WB: Well, this particular record, Havana Moon, is a very interesting song, probably one of the more important musical figures in rock and roll, I suppose.
Plays "Havana Moon"
WB: All right, that was "Havana Moon," Chuck Berry, tragic story of unrequited love.
DF: Yes, here's another tragic number by John Sebastian who's made quite a comeback in the U.S.; he has a big hit single there — I don't know about here — it's about the tribulations of high school which, of course, is a state of mind.
Plays "Four Eyes"
NH: And it's good evening to Stuart.
Caller: Hi Donald, hi Walter. The question I'd like to ask you is what's the audience response like between England and America?
DF: Well, you mean for live concerts or for records?
Caller: Atmosphere.
DF: Live concerts in England — we did a few last year, I guess it was — audiences in England seem to be quieter and more attentive, but very appreciative. Of course, in America they're much more boisterous as a rule. Generally, the response is great both here and there — it's just different cultures and they react in different ways.
WB: There's something very likeable about English audiences, I must say that. I enjoyed it.
Caller: I'd just like to say that "Rikki Don't Lose That Number" is your best track and I think that's fantastic.
NH: Stuart, here's a track from the new album, it's called "Don't Take Me Alive."
Plays "Don't Take Me Alive."
NH: I don't know if you know this, chaps, but we have what we call a mother phone; it's an answering machine and they vote for their current favorite albums, and this week The Royal Scam has gone up to the fourth most popular.
DF: Oh, that's splendid.
NH: I want to actually talk about your music, because we haven't done that. Without appearing to be sycophantic about your music, you do tend to be perfectionists.
DF: I guess it's true to some extent — I think this last album we tried to get more of a live feeling and for that reason this album probably has more imperfections than some of our other albums.
NH: Was it true that on Katy Lied you actually went back and remixed the album a few times?
WB: That was true and that was done because the original mixes suffered an unfortunate technical deterioration and when we discovered that, we had to go back and do it again.
DF: It was a bitch to make, as the Eagles would say.
WB: …if they were here — which they're not, as far as I know.
DF: It's a bitch to mix — is that how they talk? California, you know.
NH: Because one of the things that impressed me when I was in Los Angeles the last time at the Record Plant was the amount of extra equipment that you have over there compared to British recording studios.
DF: Yes, that's true.
NH: How far do you think this thing can go, though? 'Cause you've got so advanced in the technical area of recording, don't you think that one tends to miss out on the spontaneity of the performance if you know that you can go back and remix it again or overdub and that sort of thing?
WB: Well, not necessarily. I was just thinking that a lot of those boxes they have in Los Angeles actually duplicate effects that have been used for many, many years but just in a simpler way. For example, you'll have electronic devices that stimulate tape echo effect that they've been using since that Chuck Berry record that we played. So it's not changing the actual fact of how much live essence there is in a recording.
DF: That's true. If you have some cooking musicians in a room all those boxes really don't mean very much. It's still a matter of musicians getting together and playing, and if the cook isn't there the boxes won't help you.
NH: Right, and you've chosen some music from Van Morrison.
DF: Yes, as a matter of fact it's an old record by Van Morrison — I figure it was his first solo effort — and there are actually a few musicians on this record that played on our current album.
WB: Right, and I'm here to tell you — and Van Morrison's here to tell you — that the cool room is the fool's room and you can almost smell your "TB Sheets."
Plays "TB Sheets."
NH: Glad you selected that, Walter. Or was it Donald? 'Cause he's one of my favorite artists. On the phone, hopefully, is Nick.
Caller: Hello. I would like to thank you, to begin with, for five fantastic albums — they really are my favorite five albums of all time, just about.
DF: Oh, gracias.
Caller: What I was really wanting to know — two things — how does the songwriting team actually work? I mean, who writes the lyrics or who writes the music, or do you do both?
DF: Well, it's sort of a combined effort. If Walter has any free time he pedals over to my house and we kick it around a little bit and it ends up as Bill's mother, I guess.
Caller: Also, there are some amazing guitar solos on The Royal Scam…
DF: I agree.
Caller: … and I'd very much like to know who plays the breaks on "Kid Charlemagne," "Don't Take Me Alive" and the one after that. I have a feeling they're all probably the same person.
DF: You're right about "Kid Charlemagne" and "Don't Take Me Alive." That's Larry Carlton, a very fine Los Angeles musician that we work with quite often. And the track after that — I'm not sure which one … What is that?
NH: (reading from the album sleeve) "The Caves of Altamira."
DF: Is that the one?
WB: That's a saxophone, then.
DF: That's a saxophone solo.
Caller: There's a lot of piano and guitar…
DF: Oh, "Sign In Stranger," is that what you're talking about? Yes, that's a little science fiction number with a little science fiction guitar by Elliott Randall.
Caller: And do you play the piano on that?
DF: No, I didn't as a matter of fact. That's Paul Griffin, who we just heard playing organ on that "TB Sheets" record.
Caller: I didn't really know, it sounded a bit different to you.
DF: A little funky, a little funky.
Caller: And the one "Haitian Divorce" on the other side, I really love that, the reggae thing. Who plays the guitar on that?
DF: A very fine guitarist named Dean Parks, with a little electronic enhancement by Walter Becker.
Caller: Well, thanks very much for answering the questions.
WB: You betcha.
DF: Glad you like the record.
Plays "Kid Charlemagne"
NH: It seems that that track is gonna be released as a single, is that right?
DF: Yes, yes.
A faint voice is heard trying to respond to the question.
NH: Sorry, I didn't turn your mike on.
WB: You didn't turn my mike on? Swine.
DF: Shame on you.
NH: So that's gonna be the new single, right, from the new album?
DF: That's what they tell me.
WB: Ok, what we're gonna do now is — I must tell you this — Nicky doesn't want us to play any of our jazz records for you. I understand that because it is the music of tomorrow as far as we're concerned, but it all seems to have happened a long time ago. We are, however, going to play Duke Ellington's theme song from the 1920s…
DF: Twenty-six, I think it was.
WB: … well, and before that, and till the end of the twenties, and it's a tune called "East St. Louis Toodle-Oo," written by Duke Ellington and Bubber Miley, who's the trumpet player. First, we're gonna play one of four version that he recorded in a period of about 18 months and then we're gonna play our version, which we recorded quite a bit later than that actually, and we had a lot of time to think about it and n or those unfortunate people who've never heard Duke Ellington's "East St. Louis Toodle-Oo" and I just wanted to tell you who played on that. The trumpet player was the co-author, Bubber Miley, also Lewis Metcalfe on trumpet, trombone solo was by Joe "Tricky Sam" Nanton, clarinettist — who was weak, but times were hard — Rudy Jackson, Otto Hardwicke was the saxophone player — a good personal friend of the Duke's — Harry Carney was the baritone player — he was the baritone player with the Duke Ellington Orchestra until very recently, then there was the Duke, Henry "Bass" Edwards and Sonny Greer on drums.
NH: It was May, 1974, the last time you played here in London and it was slightly ill-fated for you personally as opposed to from a performance point-of-view.
DF: Yes, well, we had a very successful concert tour. Unfortunately, the tour was truncated by disease — one of your local, little germs affected me — but I went down to Harley Street to one of your famed physicians — Dr. Wittgenstein, I think it was — he also wrote a famous philosophical tract, Blue Boat, but no one's interested in that.
WB: Black and Blue Boat.
DF: Black and Blue Boat. Yes, he gave me something. What was it? You remember that. Oh, jeez, was it red? Blue? Well, who knows and who cares? But it was ill-fated for me personally and let's not talk about that any more, Ok?
WB: On the other hand I had a great time.
DF: In fact, he was seen at a local beery giving guitar lessons to some young ladies.
WB: Defending your honor in the local press.
DF: That's right. I heard that I was libeled several times. That's not the reason that I was not in such good spirits, I was a little under the weather, but luckily I climbed out from under the clouds.
NH: When do you think we're gonna see you play live here?
DF: Well, we've been thinking about next year, but then let's keep it a secret.
NH: What's next, chaps?
WB: Yes, for your listening pleasure, at great expense to the management, all the way from Los Angeles, California — the Beach Boys…
DF: … doing Wouldn't It Be Nice?
Plays "Wouldn't It Be Nice?"
WB: And now on our musical geography tour of the beaches of the western hemisphere, 3,000 miles east, make a right turn when you get to Miami and you end up somewhere near Jamaica, where you can find Bob Marley and his Wailers and they say I Shot The Sheriff.
Plays "I Shot The Sheriff"
NH: Is Bob Marley getting a lot of play on the FM stations in Los Angeles?
DF: FM, yes, in fact they're much more popular now than they were, say, a few months ago with their latest album. I think they've really made it big.
WB: Of course, radio's on the decline in Los Angeles. More and more people are just sitting and staring.
NH: I thought a lot more people in Los Angeles were listening to FM radio than were listening to AM radio.
WB: Well, they're very affluent and they are able to purchase those frequency modulated demodulators, but as far as I can tell, it's unlistenable.
NH: We've been ignoring the phones, for which I apologize, and immediately we go to John. Good evening, John.
Caller: I've got two questions. The first one is that on the first three albums that you made, Steely Dan sounded very much a group, you know, five or six people with the odd supplementary musicians on various tracks, whereas on the last two it seems to be you two with whatever musicians you seem to think suitable for each particular track. I'd like to ask you why there was this change and is this to be the pattern for the future? Because I think on Katy Lied the music suffered slightly, whereas on The Royal Scam I don't think it did. I think that album is back on a par with your first three albums.
DF: I see. Well, it's just a matter of getting the right musicians in the room at the same time. Of course, Jeff Baxter and some of the other players that were with us have defected to the Doobie Brothers, who're doing quite well. I think they're probably happier in that kind of musical atmosphere than being constantly abused by us, because we always were the musical directors of the group and I think the freedom has generally made them more happier persons.
WB: And the money is very, very groovy with the Doobie Brothers.
Caller: What about yourselves? What do you think about the last two albums, as compared to the first three in that respect?
WB: Well, the last Doobie Brothers record was something of a disappointment to me. No, no, to tell you the truth I am inclined to agree with you. I know exactly what you mean, let's put it that way, about Katy Lied.
DF: I thought it was a hell of a good album.
Caller: Oh yeah, it wasn't bad.
WB: No, I hate to take John's side in this, Donald, but…
DF: I see, you're playing the devil's advocate.
WB: …no, no, I'm not. Honestly, that's kind of what I thought. Let me just explain one thing: Pretzel Logic was not the original band.
Caller: I just looked at the photograph in the middle of the sleeve.
WB: Yeah, but a list of names is really the truth of the matter. You can figure it out from there.
DF: Actually, when we do an album we immediately forget everything we've ever known. So we can't really answer that question — we're looking forward to the next one.
Caller: Can I ask you the second question?
DF: Go ahead.
Caller: What would you say to the accusation that you're the laziest band in the world?
DF: You don't know the work it takes! We put so much work into these albums; this takes a lot of think power, we're not just kidding around.
WB: I'd like to say to whoever said that — it was someone in the English press, wasn't it?
Caller: Yeah, I don't know who it was though.
WB: Well, we're gonna find that person and…
DF: … have his legs broken. You know, we know some people in Chicago.
WB: We did wanna do a tour after this album, but we weren't able to because of recording schedules. We were suddenly faced with the oppressive reality of a record company sending very official-looking legal papers to us saying that they were gonna take the ball away from us if we didn't get our albums in on time. So we couldn't get to do it.
Caller: Are there any plans to do any live performances?
DF: Oh yes, eventually we'll come back here with a hot band and knock your socks off.
Play "Night By Night"
NH: Good evening to Paddy.
Caller: I want to ask them about an article I saw in the Melody Maker about one or two months back, which was comparing the state of English music with the state of American music and it mentioned Steely Dan and compared them with, I think, 10cc and said that 10cc were better for some reasons. There was a response from some Melody Maker readers the following week, which rejected the article, and I wanted to know their feelings on the state of English music compared to American music.
WB: Now you have to understand we've only been here for a couple of days to really hear the English music that Americans don't get to hear in America, 'cause what we're hearing lately is the Bay City Rollers and your odd Queen, things like that. Actually, there's more similarities than differences in what I'm hearing on the radio. Disco rules, you know. I notice there are a lot of English groups, like 10cc, that seem to be getting into extended formats, kind of a delayed reaction to Yes and groups like that.
DF: I really don't think there's too much comparison between, say, us and 10cc. I think they're a very good band, but to me it sounds like they're more in a McCartney type bag than we are. At least we like to think we're original in what we're doing, and I hear a lot of Beatles echo from that band, although I think they're really very competent and quite good.
NH: One of the records that you've chosen that you would take on a desert island with you is a record by the Drifters.
WB: I wouldn't take that on a desert island with me, but…
DF: I'd take it to 42nd St.
WB: …that's right.
Plays "This Magic Moment" and "One More Heartache"
NH: Right, what was that that we just played?
WB: That was Marvin Gaye performing One More Heartache, which I don't think was ever a hit but certainly should've been; it was recorded by the Paul Butterfield Blues Band back in the heart of the psychedelic '60s…
DF: Where am I?
WB: (laughing) Right. I can't stop my legs.
NH: This is the final call this evening, and it's Trevor. Good evening, Trevor.
Caller: I just wanted to ask Walter and Donald what their main jazz influences were.
DF: We've been listening to jazz since before high school and our main jazz influences have been mostly saxophone players.
WB: I think we both, at various times in our lives, attempted to learn to play the saxophone — unsuccessfully.
DF: We enjoy Sonny Rollins, John Coltrane, Miles Davis, oh, I guess all the big names that most critics seem to agree are the greatest, we tend to agree with them.
WB: Wayne Shorter, a modern player.
DF: As a matter of fact, we have a record here that, since Nick threw out all the rest of our jazz records, we're gonna play this one here and it's a Charlie Mingus record with Eric Dolphy on alto saxophone, Ted Curzon on trumpet, Danny Richmond drums and Charles Mingus on bass.
WB: Recorded on his own label, an album called Charles Mingus Presents Charles Mingus. He found his own label because he felt that he was being economically and artistically oppressed, stifled and otherwise by record companies, radio stations and so on and so forth, and the tune is entitled…
DF: …Fables of Faubus.
Plays Charles Mingus (but the record is faded out early) 
WB: Fantastic alto solo which follows, tune in next week.
NH: Gentlemen, thank you for coming in, it's been interesting, informative and fun. Ta.
DF: Ta.
NH: That's British.
DF: You must be kidding.
WB: Those two ta's don't leave me with anything.
NH: Walter and Donald, thanks a lot and we look forward to seeing you performing live in London fairly soon.
WB: I certainly hope so.
NH: Thank you very much.
DF: Thank you very much.
Play out with "The Royal Scam."
The Second Arrangement
Pour out the wine girl
I've got just two friends in this whole wide world
Here's to reckless lovers
We all need somebody
Smashed in yellow Jag
I've got my life and laundry in a Gladstone bag
You should know the program
Just one red rose and a tender goodbye (one last goodbye)
Chorus
And I run to the second arrangement
It's only the natural thing
Who steps out with no regrets
A sparkling conscience you address
When I run to the second arrangement
The home of a mutual friend
Now's the time to redefine the first arrangement again
It's a sticky situation
A serious affair
I must explain it to you somehow
Right now I'll just move back one square
Here comes that noise again
Another scrambled message from my last best friend
Something I can dance to
A song with tears in it
Old friends abandon me
It's just the routine politics of jealousy
Someday we'll remember
That one red rose and one last goodbye (one last goodbye)
Chorus repeat
Crossword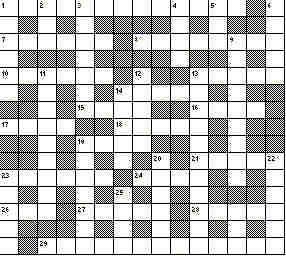 Across:
1. Favorite Steely Dan session drummer; once in Hummingbird (7,6)
7. Singular of that which will "screen out the sorrow" (6)
8. Type of mottled feline; possibly the one they "blew out" on "Ida Lee" (5,3)
10. Old Radio One Saturday show that interviewed Fagen about "Nightfly" (4,2)
13. Could this be the "it" that they wanted "Babylon Sisters" to shake?! (5)
14. Greg Phillinganes or anybody like him! (5)
15. Long time Steely Dan cohort who used to fertilize rugs (4)
16. He who might have seen the "squonk's tears" (4)
17. "______ has a scar from ear to ear" (4)
18. Forename of the vocalist on "Undecided" (5)
19. They do this at Lincoln Mall (4)
21. An alternative name for the "Gaucho"? (5)
23. Where, perhaps, 29 across ought to be kept? (6)
24. From where the penniless came seeking "The Royal Scam" (4)
26. In "The Caves of Altamira" the "busy world was not for him, so he went and found his ___" (3)
27. Tom Scott plays it on "Gaucho" (5)
28. "The Wolverine" is one from "My Old School" (5)
29. Name of one of Becker and Fagen's early groups, once including comedian Chevy Chase on drums (7,6)
Down:
1. She recorded a Fagen-Becker tune called "I Mean To Shine" (6)
2. Early "Soul" song which included steely dan in the lyrics (3)
3. In which warehouse you hold my hand? (7)
4. "When the joker tried to tell me/I could cut it in this ____ town ("Night by Night")" (4)
5. Basically July 1st, 1957-December 31st, 1958 (1,1,1)
6. Donald Fagen's one-time girlfriend; she designed the cover for "Countdown to Ecstasy" (5)
9. Gary Katz's partnership with Richard Perry once operated under this name; "Fab" George Harrison LP (5,4)
11. Donald's "True" song for the film "Heavy Metal" (9)
12. Steely Dan were "____ with problems" during the recording of "Katy Lied" (5)
13. They often used to open with this song live (11)
14. Williams Burroughs' lunch (5)19. Another favorite Dan drummer, brother of Jerry (7)
20. Hitler's title; "Pretzel Logic" wasn't about him (6)
22. With this bassman around, Walter's not even bothered about playing on Steely Dan's records (6)
23. Once manager of Steely Dan; also the Eagles etc. (5)
25. A Steely Dan this long wouldn't be much use to anybody (4)