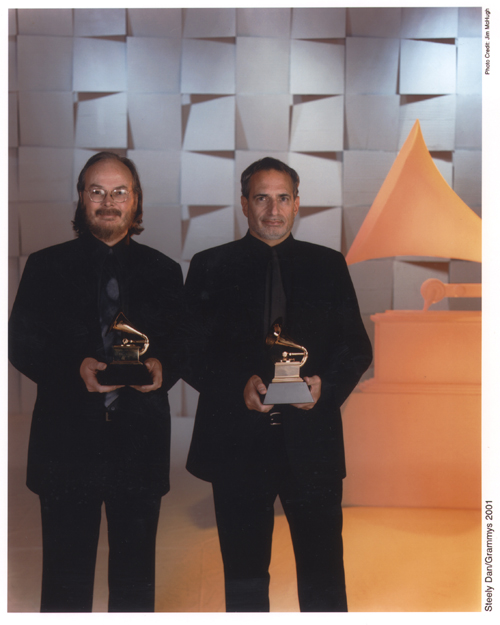 By John Timpane
Philadelphia Inquirer
I can hold my gloat no longer. I must exult.
A couple of weeks ago, after 30 years, Steely Dan finally won a Grammy. Four of them. Frosting on one bizarre cake. Also a reminder that the Dan deserves to be remembered as one of the best American popular music groups since 1950.
(Advisory: There is no person named Steely Dan. Donald Fagen and Walter Becker, two refugees from Bard College, founded the group and write its music. Fagen's that guy who sings; Becker plays bass and guitar. They are the only stable elements in an otherwise floating assemblage of God-blessed musicians.)
The Dan get a bad rap because all-hits-all-the-time radio plays only a handful of Dan. If you knew only "Do It Again" (a song a lot of people think is by Santana), "Dirty Work," "Reelin' in the Years," "Rikki Don't Lose That Number," and "Hey Nineteen" (a weird lot), you'd be justified in thinking, "Cutesy, but no more."
What they were (and still are) in reality were extremely influential songwriters who took the American popular song about as far as it could go in its uneasy but jubilant intercourse with jazz. Musicians love these guys because the playing is so good and the music so inventive.
Lyrically, their songs simply go places others don't: fear, cowardice, jealousy, the displaced nausea of the young man, the longings of the spurned — all in an oblique style hinting of the schoolboy grin. Perversion? Obscenity? Perhaps, but always in hints and shadows.
Many are the disturbing lines: "In the night you hide from the madman you're longing to be" from "Here at the Western World," or these from "Your Gold Teeth II": "Throw out your gold teeth and see how they roll; / The answer will reveal/Life is unreal."
Brilliant is a good word for "Razor Boy," in which a marimba break precedes the lyrics "Will you still have a song to sing/When the Razor Boy comes and takes your fancy things away?" Who is Razor Boy? Somebody Becker and Fagen once knew? A character made up for the song? Or could it be death, which takes everything away, clean as a razor? Or something else? I don't know, but I like guessing.
"Aja" is not so much a song as an L.A. oratorio of unfulfillable need, containing the finest single moment of 1970s popular music: Wayne Shorter's saxophone solo against a jagged backing that fades, then builds back up again, just like the tears.
Fagen's voice can be like biting on tinfoil — but the guy tries, and his interpretive range includes humor, paranoia and self-pity, though seldom tenderness. This is, after all, a band that has never done a love song — need, drive, admiration, bitterness and perplexity, yes. You get more of the game from them, more anomie, more cluelessness.
"Two Against Nature," their Grammy-winning album, sounds like they had fun, especially with the notorious "Cousin Dupree," a song about incest denied. When they played the E-Centre last summer, they toyed with the audience, playing B-sides and curios until just past irritation, and then they clobbered 'em with six or seven greats that impelled all to their feet. They can do that. "Peg," one of their best dance songs (and yet ominous: a girl in showbiz is told "It will come back to you," as if there's a price to pay), was outstanding.
Becker and Fagen are an ugly couple. They always were sort of a brainiac's band, a stand-up-for-geeks cerebration. But there is as much of the body in Steely Dan as the mind. The very name refers to a variety of feminine excitatory apparatus. And it is hard not to dance to their tunes, either slow ("Brooklyn Owes the Charmer Under Me") or fast ("Green Earrings").
It's dumb how the pop-radio format and the ill-informed (but hot to be cool) critic have colluded to mischaracterize these guys. With the Dan as with Shakespeare: If you don't like them, you must not have understood them. Listen to their work sometime — and not just the five tunes the radio plays.
Listen, in fact, to these, the 25 best works of Steely Dan: "Do It Again," "Reelin' in the Years," "Brooklyn Owes the Charmer Under Me," "Bodhisattva," "Razor Boy," "My Old School," "King of the World," "Any Major Dude Will Tell You," "Pretzel Logic," "Black Friday," "Bad Sneakers," "Doctor Wu," "Your Gold Teeth II," "Any World (That I'm Welcome To)," "Kid Charlemagne," "Don't Take Me Alive," "Green Earrings," "Here at the Western World," all of Aja, "Babylon Sisters," "Gaucho," "Time Out of Mind," "Two Against Nature," "Cousin Dupree," and "Janie Runaway." You'll find much that is thought-provoking, hilarious, painful and aware.
Onward, Daniel of Steel.